Bulldogs early lead dwindles as baseball season ends Monday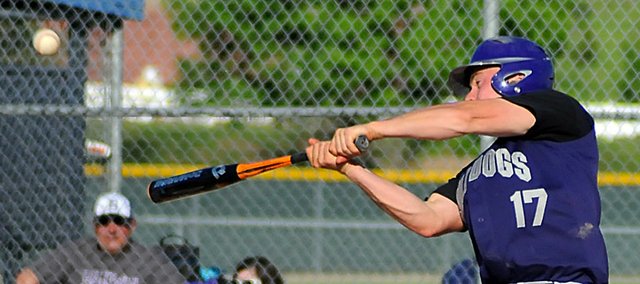 Josh Hoffman helped the Baldwin High School baseball get off to a fast start here Monday afternoon.
Unfortunately for the Bulldogs, the quick start was only a flash. They scored only one run during the final six innings as they fell to Bonner Springs 7-3 in the Class 4A regional. BHS finished the season 7-14.
"It's tough knowing that was our last baseball game," said Hoffman, who was one of seven BHS seniors who played his last game Monday. "A lot of us have been playing together for more than four years."
In the top of the first inning, senior Nate Growcock reached first on a single. He went to second base on a passed ball during Hoffman's at-bat. Later in the at-bat, Hoffman drove a pitch over the left-center wall, scoring a two-run home run.
"It felt like we were getting off to a good start," Hoffman said. "Then things didn't go our way and that's how baseball is sometimes."
Coach Brian Turk agreed with Hoffman.
"Josh pounds one in the first inning off of a very nice pitch," Turk said. "He geared up for that fastball and let loose. It was nice to be up early. But we couldn't stay ahead and then couldn't get back ahead late."
Hoffman's home run was the majority of the Bulldogs' offense for the majority of the contest. They hit one double and five singles, while reaching base on one error and one hit-by-pitch.
Growcock hit the double in the top of the seventh inning with two outs already down. Senior Jesse McDaniels hit two singles, while senior Connor Sublett, sophomore Tyler Cawley and Growcock recorded the other singles. Cawley's single scored Sublett in the fifth inning.
"Their pitcher was throwing a lot of off-speed stuff," Hoffman said. "It was hard for us to time it up."
After the game, Turk also admitted Bonner Springs' pitcher played well and the Bulldogs struggled to hit off of him for most of the contest.
"You have to credit Bonner's pitcher," Turk said. "He did a great job of keeping us off balance. He spotted his curveball up all game and he got us to chase a lot of bad pitches. When you're around the zone consistently with that offspeed pitch and it accompanied his fastballs for strikes. He had his stuff today and he did a very nice job."
On the mound for the Bulldogs was senior Justin Vander Tuig. He struck out five batters in his outing, which lasted until the fifth inning.
The Braves scored one run in the first inning, but capitalized on loaded bases in the second inning by scoring three runs. They added one more in the fourth and two in the fifth innings.
"Justin battled," Turk said. "He never let up and he competed for five. He just didn't have his best stuff today. He had more walks than he typically has and it was just one of those days. You have to credit him for competing his butt off."
Baldwin won one more game than a year ago, but lost several close games. Turk has happy with his first season as coach, but knows the Bulldogs could have had a winning record.
"I think we were 1-6 in one-run games," Turk said. "If we get half of those or we don't make some miscues late, we tip it the other direction and we get to .500. That's how baseball goes sometimes. We could have been 13-8, but we are 7-14. We will keep battling and get better at the fundamentals. We have to get better at the fundamentals throughout the program.
"It's sad to see them leave," he said. "They are a very talented group. You have to give them credit. They came to work every day and we didn't have issues with them showing up or working hard. They left the mark for the underclassmen to follow and keep improving."
The Bulldogs graduated seven seniors, most of whom played several years of varsity baseball. The seniors hope they have helped the underclassmen, who will take over the program next spring.
"I thought our season was a good start for the following teams in the upcoming years to follow," Hoffman said. "I hope they realize how much fun baseball is and they keep working hard."