BHS

softball squad Thunder-struck in regional semifinal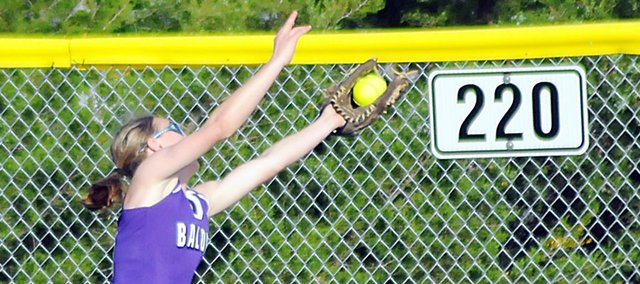 Ginger Crist and the Baldwin High School softball team were two innings away from advancing to their first regional championship game in nearly a decade.
On Monday and Tuesday, the Bulldogs hosted the Class 4A regional. After winning their opening game over Topeka-Hayden Monday, the Bulldogs came back to play Saint James Academy on Tuesday afternoon.
Baldwin High clung to 2-2 tie in the bottom of the seventh inning. BHS recorded one out before the Thunder scored the game-winning run.
"They did play well," coach Crist said. "In a tough game like that, it comes down to a couple errors or mental breakdowns and how you'll execute off of it. That's what happened late in the game. We didn't have many and we've overcame many of those."
Saint James advanced to play Santa Fe Trail in the title game. The Thunder won 7-0, qualifying for the state tournament. SFT upset De Soto in the semifinals, 4-3, after trailing 3-1 in the seventh inning.
This year marked the first time since 2008 that Baldwin won its first game of the regional tournament. The last time BHS played in the regional title game was 2003.
Baldwin and St. James played four scoreless innings of softball Tuesday before BHS took a lead. St. James had runners on base in the first and fourth innings, but left them stranded. Junior Madeline Brungardt was walked in the fourth inning and she was Baldwin's first player to reach a base.
"That's how we've been for the most part all year long," Crist said. "We have to see the pitcher twice to decide we are going to hit off of her. That wasn't what hurt us tonight."
The Bulldogs turned up the offense in the fifth inning. Senior Morgan Burton started the inning with a line drive double. Freshman Hailey Cope was walked before the Bulldogs recorded two outs.
Junior Kaysha Green hit a short blooper to right field that wasn't caught by the outfielder. The St. James player nearly fell picking up the ball and was late with the throw home as Burton scored from second base.
Baldwin made quick work of the Thunder in the bottom of the inning. Junior Hayley Schwartz struck out two batters and the other popped up for an out.
Seniors Aspen Brooks and Karlee Beach started the sixth inning with singles. Burton was walked, loading the bases. St. James changed pitchers after Burton's at-bat. Cope hit an RBI single off of the new pitcher, scoring Brooks and giving BHS a 2-0 lead.
"First, they were getting their heads down thinking they couldn't hit off of that pitcher," Crist said. "Once we started believing in ourselves, we were able to it. We got some base runners and things started happening in our favor."
St. James rallied in the bottom of the inning. Kayleigh Wilson hit a double and advanced to third on a single from Lydia Budke. Wilson scored on a passed ball, while Budke scored from third on a sacrifice fly to deep center field.
"KJ (sophomore Kaitlin Jorgensen) made some amazing catches in center field," Crist said. "She did a great job out there for us."
In the seventh, three BHS players grounded out in the top of the inning. St. James' Caroline Lipp hit a single to begin the bottom half of the inning. Lipp advanced to second on a sacrifice bunt. Carly Triggs reached first on a fielder's choice, which moved Lipp to third base. Cydney Barrick came up next and hit a sacrifice fly to deep left-center field, scoring Lipp and winning the game 3-2.
"It was a very tough loss," Crist said. "We fought hard, but they made the plays in the end."
Crist was also proud of her right fielder, Brooks. Jorgensen and Brooks made running catches over their heads during the game.
"Aspen had a huge catch," Crist said. "She also had a nice hit for us. She's had a great season, especially from last year where she hardly hit the ball to this year where she's our No. 2 batter and played very well."
On Monday, the Bulldogs defeated Hayden 4-3. Hayden nearly came back from down 4-2 in the seventh inning, but the Bulldogs prevailed.
"It's amazing," Jorgensen said. "All of the seniors were looking forward to it. They knew we were going to win. We were all pretty excited for this game."
Baldwin scored three runs in the fourth inning. Brooks, Beach and Burton scored for the Bulldogs. Beach added another run in the fifth inning, giving BHS a 4-1 lead.
Hayden scored one run in the sixth and seventh innings. The Wildcats would have scored another run in the seventh if not for Cope. Hayden hit a deep fly ball to left field, which was caught by Green, who threw it to Cope at third base. Instead of throwing it home to tag the runner out, Cope immediately threw the ball to Beach at second base. The runner was out for leaving the base too early.
"She was about two feet off of the base and I was watching her the whole time," Cope said. "Everybody was yelling 'throw it to four', but I knew she didn't tag up so I knew where to throw it back to second."
BHS ended its season 13-9. The Bulldogs will lose four seniors from this year's team.
"We had a good season," Crist said. "We started out rough, but we finished strong. We came around and played well the last few weeks."