BHS

graduates 104 students at Sunday's ceremony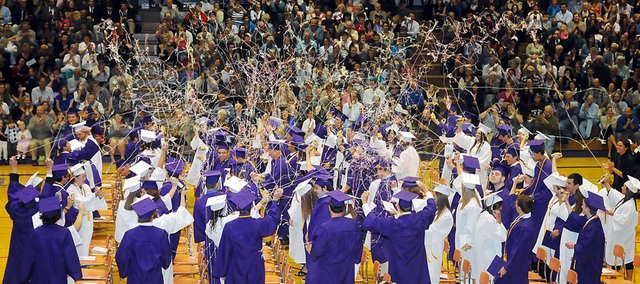 Those attending Sunday's Baldwin High School commencement who also attended the ceremony in 2009 might have thought they were experiencing déjà vu.
They really saw John Richards, assistant history professor at Baker University, give commencement speeches to two BHS graduating classes. Richards, who is a BHS alumnus, Sunday addressed the 104 BHS graduates, as well as their family and friends.
"For those of you who weren't here in 2009, I spoke at that commencement," Richards said. "I did so because I was asked to do so by that class. I did so again because I was asked by this class. To be asked to speak at commencement at your own high school is an honor. To be asked twice is something for which I cannot find the words. It's especially an honor because it's you, class of 2011. I know so many of you so well, whether it's through soccer or Scouts."
In 2009, Richards' daughter, Anna, was graduating from Baldwin High. On Sunday, his son, Sam, was one of the graduates. He recalled his school graduation and how he waited for the keynote speaker to finish.
"Thirty-three years ago, almost to this day, I sat where you are wondering when the old guy was going to be done," Richards said. "So I will try to make this brief."
In similar fashion to his 2009 address, Richards gave the graduates three main, but different, points. This year's points were "there's no place like home, embrace the unexpected and bring on the axe heads."
The graduates should be proud of where they were from and wass no place like home, Richards said, backing the statements up backed it with data.
"I read a report that said 85 percent of the 2010 college graduates have moved back home," Richards said. "I guess there is no place like home. What's going on? Is the job market bad? I thought the recession was over."
For this second main point, Richards told a story from this fall when he went to Harlaxton College in England with students from Baker and other universities. While in England, he visited a large cathedral in a town north of London. A local university was holding its commencement, so Richards stepped in and became an audience member.
"Instead of hearing organ music, I heard something astounding," Richards said. "A teacher at the university began his speech by saying something like this, 'I want to talk to you about the education system of the United States of America. A system ripe with inefficiencies, fiscal waste, poor student performance, teacher burnout, etc, etc.' Then after a pause for effect, he proceeds to say, 'And that's what we want here.'
"Unexpected?" he asked. "I was speechless. When was the last time someone complimented the American education system? When was the last time a non-American complimented the education system? It's a valuable lesson. We have problems, yes, but aren't those the kind of problems we want to have?"
Richards concluded with the example of Odysseus, the heor Homer's Greek epic "The Odyssey," of ultimately overcoming challenges.
"You will succeed, because I've seen so many of you do it time after time," Richards said. "I know you will do it. The journey will be a long one. There will be adversities. I can tell you that if you accept the fact that there will be unpredictable things. If you embrace them, you're going to find yourself face to face, some point in the future where all of the axe heads will be lined up. All you have to do is pull the string and shoot the arrow through them. It will happen. So be prepared for it that moment, but expect it to happen."
Richards' gift for being the keynote speaker was a framed photograph, which was taken by Baldwin City photographer and retired BHS teacher C.R. Herpich. He wasn't the only speaker during Sunday's ceremony.
Colin Thomas and Ann Wallsmith represented the class with shorter speeches. Both students talked about the success of their class, which included academic, athletic and many other successes during their time at BHS. Thomas left the class with one goal.
"Class of 2011, let's make the choice to wake up every day and make an impact in the world," he said.