BHS

boys win first league title since 2006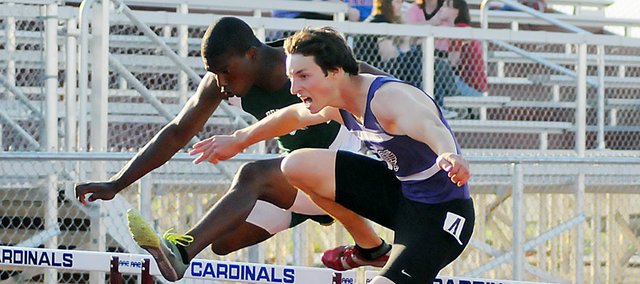 Not only did the Baldwin High School boys' track and field team win the Frontier League meet here Thursday, they finished it with style.
Baldwin won its first league championship since 2006 here last Thursday. The BHS boys scored 146 to beat De Soto by 17.5 points.
"I don't know when the last time was that we won league," senior Carson Barnes said. "I know we haven't since I've been in high school."
Coach Mike Spielman said the team title was an entire team effort last week. "It took everybody," Spielman said. "We had people that hadn't scored all year, but they were scoring in different events. That's what makes a difference in the league meet. I was happy for the whole team."
Baldwin may have had the league title in hand before the final race, but the Bulldogs put the exclamation point on their team victory in the 1,600-meter relay.
The Bulldogs blasted out from the gate and left their opponents in the dust. They ran 3:26.02, which was their fastest time of the season and broke Gardner's 2009 time of 3:26.89. BHS won the race by nearly nine seconds. The relay-winning Bulldogs were senior Carson Barnes, junior Tosh Mihesuah, junior Brian Wright and senior Asher Hannon.
"It was awesome," Barnes said. "It turned out to be a perfect night for the 4x400. We've had a couple injuries, but we keep running faster times each meet. We weren't sure what the team scores were going into the last event. We heard the league record in the race and we were close to it last week, so we went after it."
The excitement of their time and victory were felt all around the BHS team.
"It was really nice," Spielman said. "The kids did a great job of competing. We had some of them in a lot of races, so it was a neat deal that they were able to tough it out. I know they were tired, but they gutted it out and got a well-deserved victory."
The Bulldogs also won the 400-meter relay and 3,200-meter relay last Thursday. The 400 relay team of Barnes, freshman Chad Berg, sophomore Max Combest and Hannon ran 44.5. Hannon held off De Soto and Paola runners at the finish line.
"The league record in the 4x400 was nice," Spielman said. "What's great is all three relays won. It's a great way to end the meet, but the 4x800 got us started on the track with a win. We sandwiched everything between two relay victories. Tosh came back and won 4x800 with a great anchor leg. In the 4x400, those were some tired guys. It just shows that if you get pumped up about it and you want to do well, you can run really well."
On the 3,200 relay, Mihesuah anchored the Bulldogs to a narrow victory over Paola, running 8:45. Joining him were freshman Ethan Hartzell, senior Kyle Garcia and senior Tony Weiss.
"That's the closest we've been to our full team in a while," Spielman said of the 400 relay. "That was the first time Chad's been back on it in a while. We're starting to get down there with our time."
The Bulldogs won two other events and placed high in several others. Barnes earned his third victory of the afternoon in the 300-meter hurdles. He ran side-by-side with De Soto's Jeff Bowen, but Barnes edged him out, running 40.42, just ahead of Bowen's 40.52.
"I definitely had to push it harder," Barnes said. "He was breathing right in my ear. The thing about the hurdles is you have to focus on your race, because once you don't, you fall when you lose focus."
For Barnes, last week's race was redemption for his race at Wellsville the week prior. Barnes also led that race until the second-to-last hurdle. He tripped over it and finished, but not in the time he was hoping.
"He was going to run low 40s last week at Wellsville," Spielman said. "He was running great until he hit that hurdle and fell. He finally got to do that this week and it still wasn't a clean race. Once he does that, he will run in the 39s and that's the goal."
Wright was Baldwin's other winner. He cruised to victory in the 800-meter run as he ran 2:03.08. Mihesuah finished third in the race. Wright, Hartzell and Mihesush placed second, fourth and fifth in the 1,600-meter run. Hartzell came back and finished runner-up in the 3,200-meter run. Weiss placed sixth in the race.
"The nice thing was that we scored them all," Spielman said. "That's what we needed to do in those events."
In the sprints, Hannon finished third in the 100-meter dash and second in the 400-meter dash. Sophomore Austin Kraus placed second to Bowen in the 110-meter hurdles.
Baldwin scored big in the three throwing events. Senior Jesse Austin, sophomore Dayton Valentine and junior Jake Mindez placed second, third and fourth in the shot put. In the discus, they finished second, fifth and sixth, in the same order. Mindez placed third in the javelin with his best-ever throw.
"Jake had a big throw in the javelin," Spielman said. "He's starting to get a little more consistent. He was in the 160s last week and 170s this week."
BHS will head to Basehor-Linwood High for the Class 4A regional meet Friday. The field events begin at 3 p.m. with prelims at 5 p.m. and finals at 6:30 p.m.
"It will be tough in the sprints and throws," Spielman said. "There will be a handful of kids fighting for those top four spots in several events."