Baker commencements continue Sunday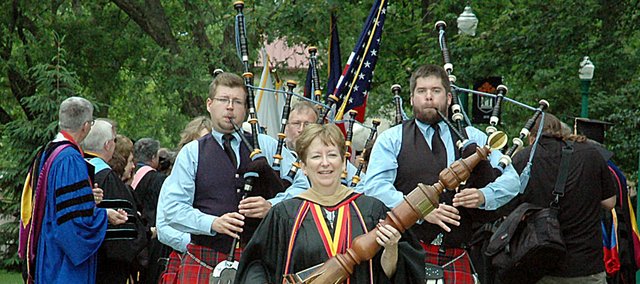 Baker University will honor more than 700 graduates for the spring semester with four commencement ceremonies at the George F. Collins Sports and Convention Center on the Baldwin City campus.
On Saturday, May 14, the School of Professional and Graduate Studies will recognize 183 undergraduates at 1 p.m., and the ceremony for 196 School of Professional and Graduate Studies graduate students will be at 4:30 p.m.
On Sunday, May 22, the ceremony for 174 undergraduates in the College of Arts and Sciences, School of Nursing and School of Education will be at 1 p.m. The School of Education will honor 188 graduate students at 4:30 p.m. that day.
The traditional baccalaureate service will be at 9:30 a.m., May 22, at First United Methodist Church in Baldwin City.
Greg Case, president and chief executive officer of Aon Corporation, will address the School of Professional and Graduate Studies students at the two Saturday ceremonies. Aon is the leading global provider of risk management services, insurance and reinsurance brokerage, and human capital consulting. Case has a master of business administration degree from Harvard Business School and graduated summa cum laude for Kansas State University.
Hoot Gibson, chairman of Baker's Board of Trustees, is the keynote speaker for the undergraduate ceremony on May 22. Gibson, a 1973 Baker graduate, spent his entire professional career in the insurance industry, serving 25 years as president of Midwest Builders' Casualty, one of the region's largest providers of worker's compensation coverage to the commercial construction industry in the region. His daughter, Emily, is a member of the Class of 2011.
Tom VanSickle, who has a had a career in politics, law, real estate development and property management, will address School of Education graduate students on May 22. He served on the Baker Board of Trustees from 1981 to 1988.