School, league records fall as Bulldogs sweep track titles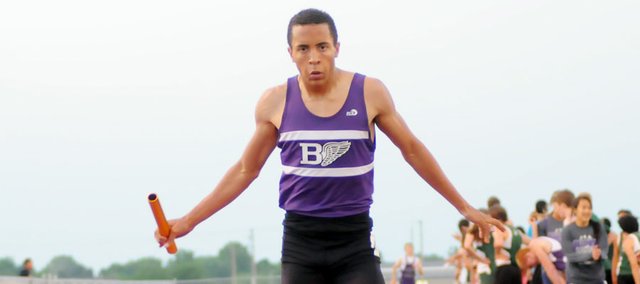 Eudora — Not only did the Baldwin High School track and field teams win the Frontier League meet here Thursday, they finished it with style.
The BHS teams combined to win 11 events, set three league meet records and break one school record. The BHS girls scored 192 points to beat runner-up Paola by 39 points, while the BHS boys scored 146 to beat De Soto by 17.5 points.
Freshman Morgan Lober will be joining her older sister, Lyndsey, who is tied for the 100-meter hurdles record, on the BHS record board. Lober won the 400-meter dash in a time of 58.95. Her time beat Rachel Miles' school record of 58.96, which was set at the 2004 state meet. Lober's time also broke Heather Garcia's league meet record of 59.2, which was set in 2007.
Baldwin broke other league records Thursday and both were the final event of the night. The BHS girls' 1,600-meter relay ran its fastest time of the year by four seconds, 4:03.21, and won the race by eight seconds. Gardner-Edgerton previously held the league record at 4:04.33, which was set in 2007. Running the relay for Baldwin were Lyndsey Lober, Elena Watson, Kaitlyn Barnes and Morgan Lober.
Their male counterparts couldn't be out done, so they also set a new meet record in the next race. The Bulldogs ran 3:26.02, which was their fastest time of the season and broke Gardner's 2009 time o 3:26.89. The relay-winning Bulldogs were Carson Barnes, Tosh Mihesuah, Brian Wright and Asher Hannon.
BHS also won both 3,200-meter relays and the boys' 400-meter relay. The 400 relay team of Barnes, Chad Berg, Max Combest and Hannon ran 44.5.
The BHS girls easily won the 3,200 relay in a time of 10:02.16. Relay members were Carol Whaley, Hannah Hutton, Morgan Lober and Barnes. On the boys' side, Mihesuah anchored the Bulldogs to a narrow victory, running 8:45. Joining him were Ethan Hartzell, Kyle Garcia and Tony Weiss.
Other Bulldogs who won events were sophomore Monica Howard (javelin, 119 feet, 3 inches), Lyndsey Lober (100 hurdles, 15.6), senior Ramie Burkhart (300-meter hurdles, 47.6), Carson Barnes (300 hurdles, 40.42) and Brian Wright (800-meter run, 2:03.08).
There will be full stories in next Thursday's edition of the Signal on the league track meet. BHS will compete at the Class 4A regional May 20 at Basehor-Linwood High School.