Yo-yos add new dimension to Marble Days celebration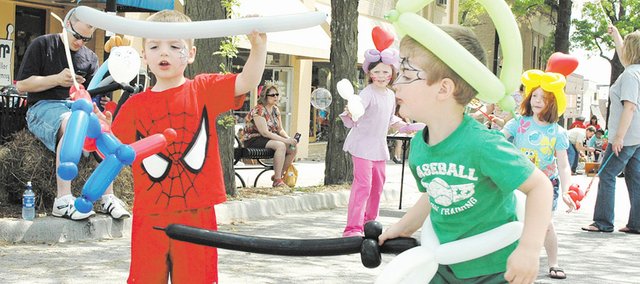 Photo Gallery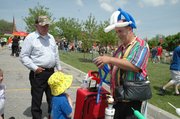 Fifth annual Marble Days celebration
The Marble Days celebration Saturday, May 7, offered an array of activities like a marble shooting contest, old-fashioned games, balloons and bubbles, a yo-yo competition and the ever-popular Running of the Pinkies.
Marble Days winners
The winners in the day's various contests were as follows:
Marble shoot
• First place: Mya Hurley, Tonganoxie
• Second place: Peter Klingele, Bonner Springs
• Third place: Caine Jackson, Bonner Springs
Marble art and inventions
First- through sixth-grade division
• First place: Steph Arnold
• Second place: Arika Franklin
• Third place: Skylar Taylor
Seventh- through 12th-grade division
• First place: Bryn Aytes
• Second place: Makayla Mefferd
• Third place: Bre Lynn
2011 Kansas State Yo-Yo Championships
Sport ladder
11 and under division
• First place: Luke Sherman, Columbia, Mo.
• Second place: Ryan Henn, Lenexa
• Third place: Tommy Mitchell, Olathe
12 and over division
• First place: Nick Civitello, Kansas City, Kan.
• Second place: Philip Michaelson, Lenexa
• Third place: Alex Jones, Lawrence
Open division
• First place: Adam Brewster, Des Moines, Iowa
• Second place: Jacob Deffenbaugh, Topeka
• Third place: Justin Perez, Edgerton
1A division
• First place: Adam Brewster
• Second place: Alec Campbell, Wichita
• Third place: Jacob Deffenbaugh
Kansas residents scoring the most points in the open and 1A divisions earned Kansas State Champion titles. They were: Jacob Deffenbaugh, for the open division, and Alec Campbell, for the 1A division.
Residents were out en masse Saturday at the fifth annual Marble Days celebration, taking part in activities ranging from marble shooting to letting large, bubble wand-made bubbles float down Oak Street.

One of the highlights of the event was the ever-popular Running of the Pinkies, but coming in at a close second was the 2011 Kansas State Yo-Yo Championships, going on all afternoon in the Community Center.
A not-too-packed roomful of friends, family members and curious Marble Days attendees watched as 30 yo-yo contestants took the stage in five different categories: 1A, open, sport ladder, which was divided into one competition for ages 11 and under and one for ages 12 and over, and beginner. Organizer Blake Freeman said he was pleased with the championships, which were in Bonner Springs for the first time.
"It's exceeding all expectations that I had for it," Freeman said "For a first-year contest, you can generally expect 15 (overall contestants), so we've doubled that … it's been a really good atmosphere."
At 75 degrees and sunny, the weather set the perfect backdrop for many of the attendees to the celebration.
"It's been fun watching the kids; the kids are having so much fun," said Sandy Kolderup, Overland Park, who was asked why she was enjoying herself at the festival. She had brought two grandchildren with her. "And the fact that so many of the activities (are) for free and it's a gorgeous day. How could you not (have a good time) on a gorgeous day like this?"
The Running of the Pinkies, where 5,000 pink rubber balls were dumped from a front-end loader to bounce and roll their way down Oak Street past a series of obstacles to the finish line, had Oak Street jam-packed. Attendees could sponsor a ball for $2 apiece and those with balls making it to the finish line first were awarded cash and gift card prizes.
Proceeds from the pinkie run will go to the Harvesters BackSnack program. As of press time, Marble Days organizer and Moon Marble Company owner, Bruce Breslow, didn't know how much had been raised.
Though he said he thought the number of booths and activities for youths was a little lean this year, Breslow said, overall, he was pleased with the turnout for this year's Marble Days.
"I thought things went pretty smooth. The weather was beautiful — a little warm," Breslow said following the event. "We had a good turnout of the public. Everyone seemed to be having a good time."
Prior to the event, Breslow had raised some concern that the yo-yo competition might detract from the marble activities, but he said later those concerns were assuaged by the large number of people that showed up to both events. He added he expects the yo-yo championships to be a feature of next year's Marble Days event, as well, with one modification.
"I think it'd be nice if we could figure out a place where we could all be closer," Breslow said, noting that the distance between the Marble Days activities in and around Centennial Park and the Community Center, where the yo-yo championships were contested, was a bit of a trek for people.