U.S.

Highway 56 reopens to traffic east of Baldwin City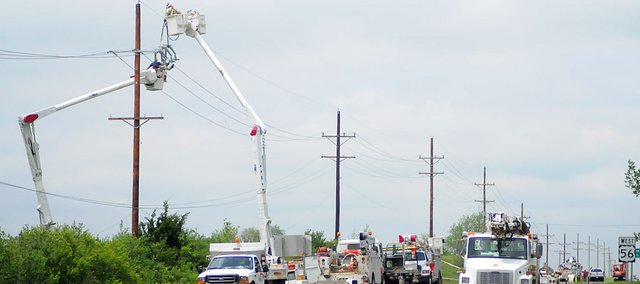 Traffic is moving again on U.S. Highway 56 east of Baldwin City after a Wednesday night thunderstorm knocked down several power poles and caused officials to close the highway for several hours.
About 9 p.m. Wednesday, officials closed U.S. 56 from the Baldwin City limits east to the Douglas-Johnson county line. Drivers were forced to find alternate routes until the highway reopened to traffic about 14 hours later.
One lane of traffic was opened around 11:15 a.m. Thursday, said Kimberly Qualls, northeast Kansas public affairs manager for the Kansas Department of Transportation.
The highway reopened to all traffic about 5 p.m., KDOT officials said.
Qualls said she did not know of any additional damage caused by the storm other than the fallen poles, which belonged to Kansas City Power & Light. There were no injuries reported, she said.
A KDOT worker manning one of the road blocks said there were six to eight poles down.
Wellsville and Baldwin City school officials said the highway closing did not stop their buses from picking up children and getting to school on time.
The city of Wellsville did not receive reports of other damage from the storm and Baldwin City Administrator Jeff Dingman said Baldwin City did not suffer any storm damage other than a brief power outage.