Trio of Bulldogs headed to state tennis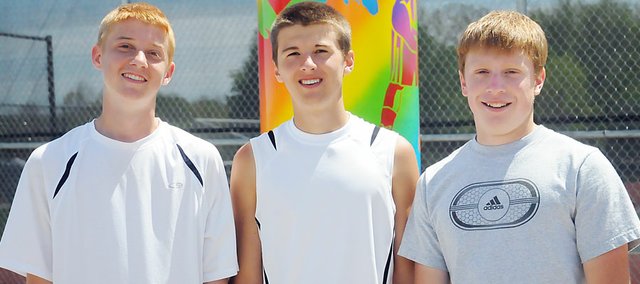 Topeka — Weather delays extended the opening day of the Class 4A boys' regional tournament here last week, but when it all cleared Baldwin High School will be sending three players to state.
Rain and lightning delayed action three times last Thursday when the tournament was starting. The weather forced matches to be halted, restarted, halted and started again.
On Friday, the sun came out and the temperature increased. Players battled the weather in hopes for a state berth.
"We competed well at regionals," coach Justin Hoffman said. "I was a little nervous after Thursday with the rain and delays. Plus some of those came during the middle of matches. I was really proud of the boys with the way they responded to start Friday morning and close out their first-round matches."
A trio of Bulldogs won enough matches to qualify for the state tournament. Junior Tucker Brown was the Bulldogs' lone singles player to advance to state as he placed fifth. Senior Tim Larson and junior McKinley Dick finished fourth in doubles.
"Last year was kind of a learning experience," said Larson, who competed with Brown as a doubles team at state last year. "I learned how good the competition is at state. This year, I know what to expect heading into it."
Larson and Dick started the tournament by winning their first two matches, which qualified them for state. They lost their semifinal match early afternoon on Friday and fell to the third-place match later that day.
"They played really well in their quarterfinal match against Bonner Springs," Hoffman said. "They struggled a bit to begin the day Friday, but Saint James is a good team and they control the ball really well. It really helped us to come back Friday and play in some wind, because it took out Saint James' ability to lob. That really made the difference."
In their final match, Larson and Dick competed against a De Soto team. BHS lost a close match to finish fourth.
"We played pretty well," Dick said. "We probably should have won our third-place match, but that happens. We just didn't play our best in that match."
Hoffman agreed.
"I thought we should have won it," he said. "We beat them earlier in the year, but that team improved quite a bit since we saw them the week before at league. We just didn't execute some of our shots as well as we could have. They fought hard and didn't give up."
Despite losing their final two matches, Larson and Dick are excited about the opportunity to play in one more tournament this spring.
"I'm really excited to qualify," Dick said. "It should be a lot of fun. I'm ready for it. It's my first time going, so we'll see how it goes. I'm not too nervous, because I know we can compete with quite a few teams."
In singles action, Brown came in as the No. 5 seed. He won his first match, advancing to the quarterfinals. In his second match, he led both sets 5-2, but struggled to finish as he lost both sets to the No. 4-seeded player.
"He lost his second match to a foreign exchange student who goes to school at Hayden," Hoffman said. "Tucker has both sets in the bag at 5-2. To the Hayden kid's credit, he fought hard to get back into it. Tucker couldn't quite pull it out and lost both sets 7-5."
Brown was just as disappointed in his inability to finish the match.
"That was a very tough loss," Brown said. "I was up in both sets. I guess that made me mad, so I came back and played my best in the next match."
Needing a victory in his next match to qualify for the state tournament, Brown's back was against the wall, because a loss would have ended his season. Brown rallied and won his next two matches, finishing fifth in the regional tournament.
"After that loss, he had to win that next match to qualify for state," Hoffman said. "He responded really well. He pretty much destroyed that kid he played. He ran into a little backboard in his last match against a kid, who is tough to play because he just blocks everything back. He got it together and out hit him in the third set."
The state tournament will begin Friday in Lindsborg. The Bulldogs must win their first matches to play themselves into the main bracket. Two wins on Friday guarantees them a spot on Saturday.
"We have to be ready to play in our first match," Larson said. "The first match is usually our warm-up, but we can't treat it that way at state. We have to play well from the beginning."