School board sides with safety over savings in busing decision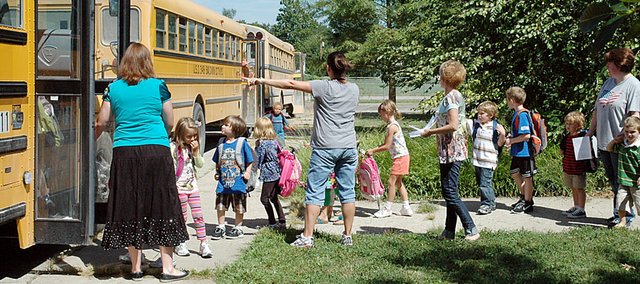 USD 348 Board of Education members followed the advice of Superintendent Paul Dorathy and rejected the transportation committee's recommendation that was proposed in April.
Board members agreed Monday with Dorathy that the savings from ending bus service to students inside the city limits of Baldwin City didn't outweigh the safety concerns of children walking to school. It was a unanimous decision to reject the recommendation that was tabled last month.
"When a decision like this has an impact on the safety of kids, I have to weigh the risk versus the reward," Board member Ande Parks said. "I think the risk is too high for the amount of money we would be saving. Every dollar saved is significant, but the risk is too high."
Board President Alison Bauer also stated safety as a primary concern.
"I think we all agree that walking to school would be good for children's health," she said. "But to think about children walking along 56 Highway is crazy to me. I just don't want to see any kids get hit on the highway."
Ending bus service to students inside the city limits would save the district $20,000 to $30,000 next year, Dorathy said in first explaining why the committee's recommendation.
He said as the facilitator of the committee, he let each committee member say his or her opinion without interfering too much. He wanted the committee to make a recommendation to the board, but he also said he has duties as a superintendent to make the right decision.
"Now, I'm going to tell you what I think as superintendent," Dorathy said. "First, we have estimates that this will save us $30,000. I think it's way less than that. I think it's closer to $20,000. I have several concerns if we approve this recommendation. The first is the amount of congestion and traffic I think we will have at the schools, because you will have more parents driving their kids to school. That will also be increased by the parents from the rural communities who will be driving their students into town, too. So there will be added congestion from both of those groups.
"The other thing is we are going to have more students walking or riding bikes to get to school. They will be facing a lot of traffic. My biggest safety concern is that we will be increasing the opportunity for a child to get hit by a vehicle. I'm concerned with kids getting across 56 Highway. For older kids, it's easier, but not perfect. That's my biggest concern."
Parents who work in other communities would face difficult decisions with the change, Dorathy said.
"Our community is a bedroom community," he said. "Our parents have to go to other cities, such as Lawrence or Kansas City, for work. In order to get to those jobs, they have to leave at 6 or 7 a.m. or earlier. If they have to drop them off earlier in the morning, they will have some expectation that someone will take care of them. There's no way to solve that. I know some have considered dropping their kids off at schools where they work, such as Lawrence. That could be the choice for a lot of parents."
Dorathy added the end of bus service could give students with poor attendance records another reason to miss school.
Board members decided to revisit the topic next year, but they all agreed that major infrastructure improvements, such as sidewalks, were needed along U.S. Highway 56. Dorathy also said the district will consider picking up students in groups, instead of single households inside the city limits. Students may have to walk to a designated area in their neighborhood to be picked up in the future.