Newly hired
BHS

principal makes good impression during Monday's visit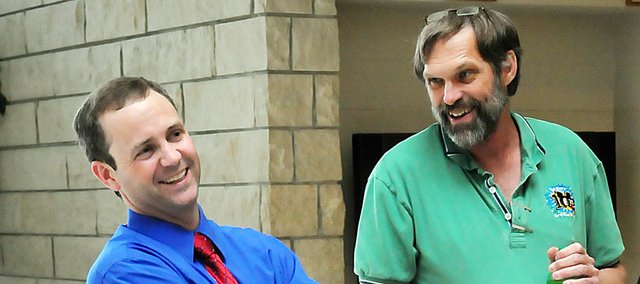 The last time Rob McKim walked through the doors of Baldwin High School he was interviewing for the vacant principal position.
McKim walked through the doors of the high school again Monday afternoon, with the job securely in hand, ready to meet the Baldwin City community. McKim was at the high school from 3:30 to 5:30 p.m. Monday for a meet and greet with faculty, parents, students and members of the community.
"It's good to be here meeting some new people," McKim said. "Some people I didn't get a chance to meet during the interview process, but everyone that I've met and everything that I've seen, it's a great school and I'm excited to be here."
McKim thinks it's great for the high school to have the event so he could meet with the community, and believes it is important to develop the connections with the community in order to be successful.
"When you deal with people, being able to relate to them in a personal matter sometimes can help you get done what needs to be done," McKim said. "And so getting to know the staff here and a few of the kids is something that is very vital, and kind of a jumpstart to the next year."
Michelle Johnson, parent and IRR Instructor at Baldwin Junior High School, and her daughter Mackenzie, met McKim Monday. Johnson said she was pleased to see how enthusiastic and outgoing he was.
"We were kind of waiting in the back and I think he could kind of see that we had been waiting for a while, so he came right over to us and introduced himself to us, and so we were very happy to see that he was willing to interact with us and talk to us," Michelle Johnson said.
McKim plans to come back to Baldwin City at least one more time, if not more if necessary, before he begins his job as principal.
"Right now, I'm balancing finishing up at Fort Scott and the end of school anywhere is just hectic and crazy," McKim said. "And so trying to balance getting finished up there and then getting prepared and just drinking in as much information as I can about Baldwin High School."