Lober ties Cook's hurdles school record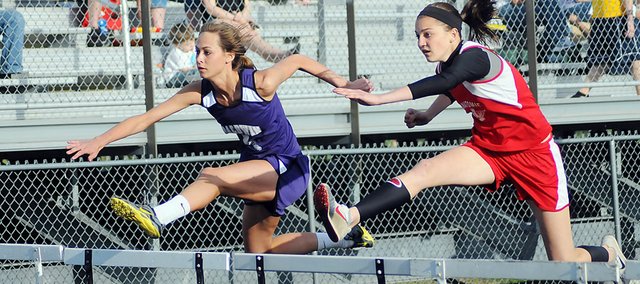 Wellsville — Several Baldwin High School girls' track and field class records were broken here Friday, but Lyndsey Lober was the only one to tie a school record.
Lober will now be a part of BHS track and field history. She tied 1998 BHS graduate Jenny Cook's 100-meter hurdles record at the Red Bud Classic Friday. The BHS senior won the race in a time of 15.0 seconds, which ties Cook's school record that was set in 1996.
"Finally," Lober said. "I've been looking at that board all four years and I've really wanted that record. I didn't expect it today, but I came out and did it. It's huge difference to have someone push you. It was awesome. It's definitely the best feeling I've had all season."
Lober edged out Osawatomie's Tayler Soucie. They ran side-by-side the entire race, but Lober beat Soucie narrowly at the finish line.
"That was a real race," coach Ted Zuzzio said. "It felt like the Kentucky Derby. It was two great athletes running side by side and step for step. It was a great race."
Lober was approaching the record a year ago before suffering a knee injury at practice before the Redbud Classic. Her season was finished with a torn ACL. Now, one year later, she shares the record with Cook.
"I was so excited," Lober said. "It' s such a great feeling to be back, especially after an injury like I had. I didn't think I could do it. Having done it tonight, it's very exciting. I'm cool with sharing it, as long as my name's on the board."
Lober's victory in the 100 hurdles, along with the two relays she ran on, helped the Bulldogs win the team title. They scored 128 team points to easily win. Paola finished runner-up with 79 points.
"We had a monster meet," Zuzzio said. "We tied one school record and broke several class records."
The BHS girls team won five events, including Lober's hurdle race. Her younger sister, freshman Morgan Lober, won the 400-meter dash. She ran 59.4 to win the race. She will receive her name on the annual 400 champion plaque. Her time was the fastest ever by a BHS freshman.
"She ran two 400s under a minute," Zuzzio said. "She also ran her fastest 800 time on the two-mile relay. She had a monster day."
The other individual victory came in the 800-meter run. Sophomore Kaitlyn Barnes broke the 2:20 barrier as she won the race by seven seconds in a time of 2:19.9. That time broke 2008 BHS graduate Heather Garcia's sophomore class record.
"I'm very excited," Barnes said. "I've been working for this for a long time. It's always been my goal to break 2:20. It's very exciting. It gives me the confidence to do even better.
"I was actually fast through each of my splits," she said. "It was tough to hold on at the end. It felt to be almost there, so I had to finish. I couldn't the clock, but I knew I was close, so I gutted it out."
Barnes and the Lober sisters also helped the 1,600-meter relay team win the final event. The Bulldogs will receive their name on the annual plaque for the relay, too. Sophomore Elena Watson was the other relay member. BHS ran 4:07.4 in the race.
"It's awesome to work together with her," L. Lober said of being on the same relay team as her sister. "That's been my biggest thing growing up. I've always wanted to compete with her. It's awesome that we did our job and worked hard today."
M. Lober and Barnes were a part of the first-place 3,200-meter relay. Junior Carol Whaley and freshman Hannah Hutton were also on the team. The Bulldogs won in a time of 9:52.7.
"We ran our fastest times of the year in all three relays," Zuzzio said. "That was just a fun meet to be a part of."
The 400-meter relay team finished third in a time of 51.7. Team members were seniors Myranda Behrens, Ramie Burkhart, Samantha Meisenheimer and L. Lober.
Meisenheimer ran 12.6 in the 100-meter dash. That's the third-fastest all-time in BHS history. The school record is 12.4. Burkhart finished runner-up in the 300-meter hurdles in a time of 47.6.
Sophomore Jessie Katzer set the sophomore record in shot put with a throw of 36 feet, 2.5 inches. She finished third in the event. Sophomore Monica Howard and Katzer finished second and fourth in the javelin. Howard threw 116-1 and Katzer's distance was 109-4.
"Katzer had a bit throw in the shot put," Zuzzio said. "That should get her to state. Her and Monica had PRs in the javelin, too."
The Bulldogs will compete at the Frontier League meet today in Eudora. The field events will start at 3:30 p.m. with the prelims beginning at 4:30 p.m.
"Eudora has a new track and a nice facility," Zuzzio said. "We are looking to win the league. Gardner got us last year and that was our only loss."