Going small pays big for Baker University senior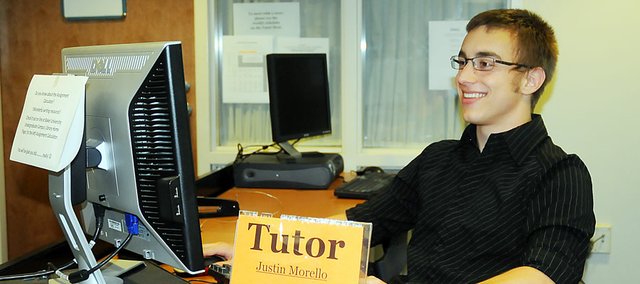 Baker University senior Justin Morello was not used to a small-school, or small-town, atmosphere.
Morello grew up living for nine years in Cologne, Germany, which is home to nearly 1 million people, and graduated from Blue Valley North High School in Overland Park. While also considering attending the University of Florida, which would seem to fit the large-school trend, Morello chose Baker. He was the only one from his high school to do so.
"I wanted to be more in the small-school atmosphere," Morello said. "I think that really, really, helped me out, and I don't think I would be as successful if I chose to go to a university where you're one of the numbers."
Along with majoring in chemistry, Morello was a tutor, member of the Kappa Sigma fraternity, where he was the vice president and grand master of ceremonies, and was involved with the ParMentors organization.
"I knew that was part of being in a small school, you had the opportunity to kind of get your feet wet in a number of different things, but I really didn't know to the extent," Morello said.
Morello had a connection to Baker before stepping on campus. Terri Blake, senior associate director of admission at Baker, is Morello's stepmother. Blake said she was thrilled to hear Morello was going to become a Wildcat.
"His dad and I are really proud of him because he was able to have a lot on his plate and still be extremely successful in the classroom," Blake said.
But it was another Baker connection that landed Morello in New Mexico last summer. One of Morello's professors had a connection to Los Alamos National Laboratories and Morello was able to get an internship. Los Alamos is well known for being the birthplace of the atomic bomb. Morello also worked in the same building that housed former President Ronald Reagan's Star Wars project. To protect the work going on in the buildings, security is at a high, including the laboratories' own special forces units patrolling the outside of the base.
"It's an incredible place and a lot of ground-breaking research is done at this institution," Morello said.
The scientist Morello worked for even offered him a full-time job doing research for her for a year. Morello credits Baker for giving him that opportunity.
"I would not have been able to do that, I couldn't even have dreamed of being able to go out there and having the opportunity to do that, but Baker allowed me to do it," Morello said.
Still somewhat undecided on his future, Morello turned down the job and instead is setting his sights on medical school. He plans to take the MCAT over the summer and enter medical school in the fall.
Blake was away from campus for several months after suffering from pneumonia that put her in a coma for a month in the fall, but is excited to watch her stepson walk across the stage at graduation May 22 in Collins Center.
"He's a hard worker. He's very dedicated," Blake said. "He'll be successful no matter what he does."
As Morello prepares for the next step in his life, he does not regret his decision to attend Baker and would chose to be a Wildcat all over again.
"I think I've made some great choices and I've made some mistakes, but I think everyone's done that and it's all part of the experience," Morello said. "I think that's the best way to put it. You take the ups with the downs and you just run with it."