Bulldogs sweep Chieftains in regular season finale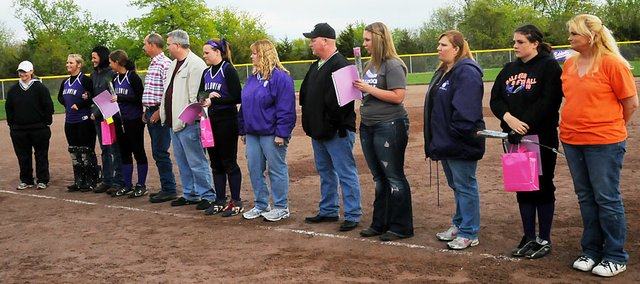 Despite no games or practices for four days, the Baldwin High School softball team finished its regular season with a sweep at Tonganoxie on Monday.
The Bulldogs swept Eudora last week and were scheduled to play Paola at home for senior night. Rain once again postponed the Paola doubleheader, but the Bulldogs did celebrate senior night briefly last Thursday.
After a busy weekend, the Bulldogs came back for road games at Tonganoxie Monday afternoon. The Bulldogs (12-6) beat the Chieftains (8-10) 2-1 and 7-6 to sweep their third straight opponent.
"We didn't play Thursday," coach Ginger Crist said. "We didn't practice Friday. They had prom on Saturday, Mother's Day on Sunday and then a game on Monday at Tongie. It had been a while. We were a bit rusty, but we got the job done."
The BHS players agreed with their coach, saying it was tough to play Monday, because the rest of their games this spring have been on a Tuesday or Thursday.
"It was weird coming from Sunday," freshman Madeline McCrary said. "We tried to get out on our own and play Sunday, but it was weird."
In the opening game, the Bulldogs and Chieftains played a neck-and-neck ball game. The Bulldogs scored in the opening inning. Junior Madeline Brungardt reached bass on a hit. Senior Aspen Brooks followed with another hit. Brungardt scored the run on an RBI from senior Kyla Good.
Tonganoxie tied the game in the fourth inning. The scored remained 1-1 until the seventh inning. Freshman Hailey Cope hit a single and reached second on a sacrifice from sophomore Kaitlin Jorgensen. Brungardt hit the game-winning RBI that scored Cope. BHS held the Chieftains scoreless in the bottom of the inning.
"We didn't play as well as we had been playing," Good said. "We played decent I think. It was a good feeling for sure. It helped us get back into game mode."
Baldwin fell behind 3-0 early in the first inning of the second contest. BHS rallied with two runs in the second, but the Chieftains added another in the bottom half of the inning.
The Bulldogs scored three runs in the top of the third to take a 5-4 lead. However, Tonganoxie scored another two runs in the bottom of the inning, taking a 6-5 lead.
Baldwin added one run in the fifth inning and another in the sixth to win the game 7-6.
"We weren't hitting well at first," Crist said. "Once we corrected a few things, we starting hitting better as the game progressed. In the second game, we hit better off of their second pitcher."
Scoring two runs apiece for the Bulldogs were junior Kaysha Green and McCrary. Adding runs were senior Mogan Burton, Cope and Jorgensen. Brungardt, Brooks, Jorgensen and junior Alexis Finucane each had an RBI. Cope had three RBIs in the second game.
"It's good to have another two wins," McCrary said. "We're 12-6 and ready to start regionals. We should have won a few more, but we're playing well now."
Baldwin's doubleheader against Paola was rescheduled for today. The first game will start at 4:30 p.m. in Baldwin City.
"It will be a warm-up for regionals," Crist said. "It won't mess with our seeding for regionals."
Baldwin earned the No. 3 seed in the regional tournament, which is being hosted by BHS. The Bulldogs will play No. 6-seeded Topeka-Hayden (7-11) at 3:30 p.m. Monday.
"Hopefully we will keep playing well," Brooks said. "It will be awesome to be at home."