Bulldog Days returning to free-of-charge origins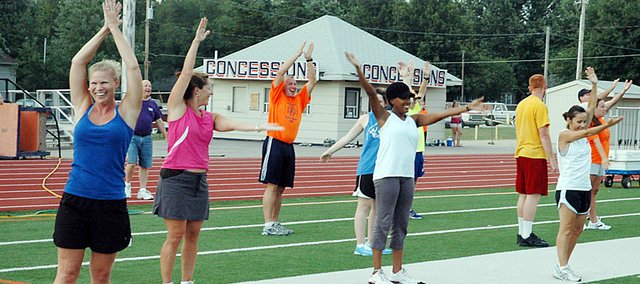 Baldwin City's popular community workout program is returning this summer to its roots and this year it's free.
Bulldog Days will officially start at 6 a.m. Monday at Liston Stadium. It will continue at 6 a.m. and 8 p.m. Monday through Friday until it ends Aug. 12.
The big change to this year's program is it will be free to the public. It is being run through the Baldwin City Recreation Commission this year.
"Basically, it's back to Bulldog Days of old," organizer George McCrary said. "We are starting in mid-May and ending early-to-middle of August."
Last year, McCrary and BCRC began charging fees for Bulldog Days, which hadn't been done since it started in 2005. Participants could pay for each monthly session, the whole summer or as a family.
"I'm going to set the record straight," McCrary said. "Baker asked me for proof of liability insurance to operate at their stadium, which is a very valid request. I have specialized liability insurance for my club. For me to get an off-site, off-premises rider on to my normal insurance was going to be $1,700. For me, to pay that for a free program didn't really fly.
"So, I went to Steve (Friend, BCRC director) and asked him for help. I knew this was coming from Lawrence, because they are no longer in the stadium. We didn't have liability for the longest time. You didn't even have to sign a waiver. Now, we sign a waiver and we use the Rec Commission."
The program is being run through the BCRC. The only requirement is participants must sign an insurance waiver.
"Last year, I knew it was a transition year," McCrary said. "I took more grief in my own household than I took from anybody on the street, and I took grief on the street, because people thought I was trying to get rich charging for Bulldog Days. My purpose was to make Bulldog Days free to the community forever, and it will be now. It's something that the Recreation Commission is sponsoring and will be for a long time."
McCrary hopes the partnership between the BCRC and Baker University lasts a long time. He is confident it will help both parties, especially when either party needs to use facilities that the other owns, such as the ballfield complex on the west edge of town.
Bulldog Days is a 30-minute workout that can include jogging, stairs, push-ups, sit-ups, plyometrics and other forms of exercise. Participants are allowed to work out at their own pace.
Participants are asked to bring a water bottle and wear proper shoes. McCrary asked that no one wear flip flops or sandals to the workouts. All ages are welcome to attend.
"I've already talked to the coaches," McCrary said. "Hopefully we won't have any schedule conflicts, and they know it's free. I want all coaches and parents to know that I'm willing to do conditioning for free."