BHS

students raise money for 'Heart Awareness Week'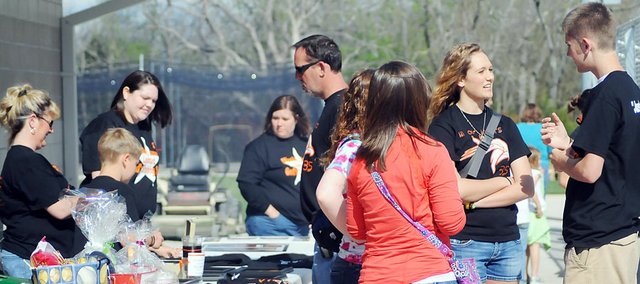 Shock ran through the nation as high-school star athlete Wes Leonard was pronounced dead at a home basketball game in Michigan during early March.
In Baldwin City, Leonard's childhood hometown, students and teachers took that numb feeling and turned it into something inspiring. Leonard's life ended too soon from an unnoticed enlarged heart.
Many people in Baldwin City knew the Leonards and were eager to ease their pain following the tragic event.
"I think God brings people together for great fellowship and to help each other get through life," sophomore Caleb Gaylord, a close family friend, said. "This is when you really need your friends."
When students at Baldwin High School were told of what happened, they figured out their next step. In honor of Leonard, junior Ellie Parr led a committee to set up a week of events and fundraisers to educate the student body on health and safety, along with organizing an athletic heart clinic.
Senior Colin Thomas, juniors Adrienne Strobel, Parr and Lakyn Clark, and sophomores Trent Russel and Gaylord were members of this small committee, along with teacher Danielle Balsman and parent Holly Gaylord as supervisors.
The entire community pulled together as well, with businesses and families donating food, money, supplies and other various things to allow 100 percent of proceeds to go to the heart clinic.
"There are so many kids that helped and so many people that to write a list would take three pages," Caleb Gaylord said.
Thus, April 18-21 became BHS's first ever "Heart Awareness Week." In just a couple of days, the committee read daily announcements of health facts, educated students on the effects of caffeine, and demonstrated how to use an AED, in hopes that students would become better prepared for emergency situations. It also sold bracelets and t-shirts to raise money to decrease the cost the their athletic heart clinic.
Last Thursday, a prayer was held at a nearby field. Students also wrote messages or fond memories of Leonard on paper, and tied them to balloons for a special balloon launch the following day. Orange ribbons were handed out at school to all students, as well.
The original day of the event, however, was rained out. Two days later, it was rescheduled.
"It worked out really well," Balsman said, "because it was beautiful outside."
At the baseball and softball games that day, 120 balloons were launched following a moment of silence for Leonard. Proceeds from the concession stands, t-shirt and bracelet sales, and the silent auction that was hosted at the game totaled around $2,000.
Parr was glad how the event went.
"I was beyond pleased how the Heart Awareness Night in memory of Wes
Leonard went," Parr said. "The weather was absolutely perfect and we had a great turnout."
The day of the games and launch were coincidentally the birthdays of
Jocelyn and Gary Leonard, Wes Leonard's parents, who were honored and proud to know what their friends from Baldwin City had done.
"I couldn't think of a better birthday present than to honor their family the way the kids, parents, teachers, and the entire community of Baldwin did," Caleb Gaylord said. "Jocelyn and Gary both called my parents and told them that they wish they could've been here."
The heart clinic is to be held at the Baldwin Intermediate Center on
Saturday, May 21. BHS plans to sponsor this event every year.
"My favorite part was seeing the potential of young adults when they become involved with something they are passionate about," Balsman said. "In a way, we have made something positive come out of a tragedy, and in doing so, we are giving back to our own community."