Wright's 800 paces
BHS

boys track at De Soto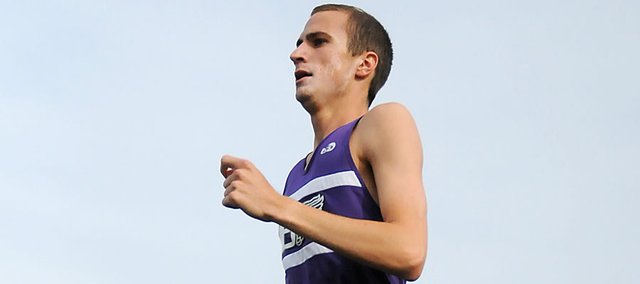 Brian Wright ran his fastest time in nearly two years here Friday night.
It was the Baldwin High School junior's 800-meter run that left coaches and teammates awestruck. Wright avenged a loss from the Bulldogs' opening meet of the season. He lost to Lansing's Aaron Potter that night, but Friday Wright beat his new rival, winning in a time of 1:58.04
"I got my competitive edge back," Wright said. "That guy got me earlier in the year and I wasn't going to let it happen again."
Wright's coach was just as happy for the junior middle distance runner.
"Brian ran a great race in the 800," BHS boys coach Mike Spielman said. "He ran really smart and took advantage of the opportunity to run a tremendous time."
Potter led most of the race from the beginning. Wright trailed him for 700 meters and then made his move on the home stretch. They ran side-by-side for nearly 50 meters before Wright won the sprinting battle.
"It was one of my smartest races," Wright said. "I let him take the lead and break the wind. I tailed him most of the race and only led for 50 meters, which was the most important 50 meters. It's nice to get out there and run fast. I haven't run very fast since my freshman year, so it's nice to get my speed back."
Wright was one of three individual winners for the Bulldogs. Senior Jesse Austin won two throwing events and senior Carson Barnes won an event on the track and in the field.
Barnes began the day by easily winning the long jump. He jumped 21 feet, 11.25 inches on his first attempt. His mark held up in finals to win his first event of the day.
Later in the night, Barnes came back to win the 300-meter hurdles. He ran his fastest time as the ran 41.17 to win the race.
"Carson ran very well in the 300 hurdles," Spielman said. "He also won the long jump with his first jump of the day."
Meanwhile in the throwing events, the Bulldogs dominated. They placed first, second and third in shot put and first, second and fifth in discus. Austin won both events.
In shot put, Austin threw 49-9.5 to win. Junior Jake Mindez threw his personal best of 45-7 on his second throw. Then he improved the mark in the finals when he threw 48-6, which earned him a runner-up finish. Sophomore Dayton Valentine placed third with a mark of 46-2.
Austin was the Bulldog with the major improvement in discus. He improved his season-best mark by more than 10 feet when he threw 150-8.5. Valentine finished second by throwing 146-4 and Mindez placed fifth with a mark of 134-6.5
"I was really happy with those guys," Spielman said. "They just keep getting better every week and they feed off of each other as they improve. One guy may beat another one week, but they will come back and beat the other guy at the next meet."
As a team, the Bulldogs placed fourth with a score of 797.5. Officials scored the meet much differently than normal. Instead of the top six placers receiving points, every competitor scored at the meet.
Each event was scored with the maximum number of competitors in mind. The winner received 36 points, followed by second with 35, third with 34 and so forth. Even if 10 runners competed, the last runner received 27 team points.
"We had a really nice meet," Spielman said. "It was a nice night. There was kind of some wind at times, but it died down later in the evening. We had six champions and that was a good day for us."
Several other Bulldogs competed well Friday. Sophomore Austin Kraus finished runner-up to De Soto's Jeff Bowen in the 110-meter hurdles. Kraus ran 16.31.
"Austin ran well in the high hurdles," Spielman said. "He had a very nice day. He's knocking that 15-second mark as he's running low 16s."
The Bulldogs' 1,600-meter relay won the final race of the night. The BHS team of junior Aaron Hannon, junior Tosh Mihesuah, Barnes and Wright ran 3:32.01.
Hannon finished second in the 400-meter dash, running 51.98. The Bulldogs' 3,200-meter relay team of freshman Ethan Hartzell, senior Kyle Garcia, Mihesuah and Wright placed second.
The Bulldogs will compete at the Red Bud Classic in Wellsville Friday. The meet begins at 3:30 p.m.
"Wellsville is one of my favorite meets for sure," Wright said. "We get to see some different people and it's always very competitive."