USD

348 Performing Arts Center set to open ahead of schedule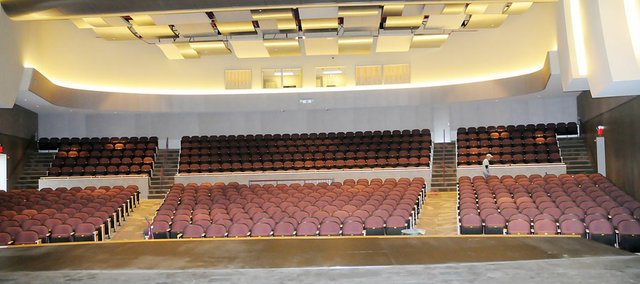 Lights, camera, action. The new Baldwin USD 348 Performing Arts Center is about to open its doors to the public.
Although it's unlikely that there will be a performance of any kind in the new facility this spring, the district is expected to take reins of the PAC before the school year ends later this month.
"I think I'm going to give it to the school sometime next week," said Merv Penner, project manager with Manning Construction. "That's just a guess right now. I thought maybe sooner, but we have to get everything finalized."
It now appears the district will take control of the building ahead of the schedule laid out in December.
The goal is to take reins before the May 15 Baldwin High School graduation. That would help alleviate some parking issues at the BHS and Baldwin Junior High School parking lot, which has been decreased in capacity because of the PAC construction zone.
"I'm hoping that before May 15, which is graduation, that all of the project is pretty much done," Superintendent Paul Dorathy said. "We want to be set up and all ready for graduation. There are always small things that need to be finished up after we take control. That doesn't mean we can't occupy it and start using it. There will be some adjustments, probably with the heating and air conditioning. That always happens. For the most part, it will be substantially completed."
But that doesn't mean it will be available for next week's busy slate of performances. BHS considered hosting its Fine Arts Night there Monday, but it wasn't ready. The same can be said for the BJHS concert tonight. However, BHS might have its awards assembly in the new facility May 13.
"There was a performance for tonight that we really wanted to have in the new performing arts center," Dorathy said Monday. "We wanted to meet that, but we couldn't get the clearance for the occupancy certificate. Without that, you can't have a performance, because you can't let the public in. Hopefully this will be the last time they have to use the old auditorium. I'm also hoping we get a couple things in there before the school year is out."
The nearly completed building, which was part of the bond issue voters approved in November 2008, is getting rave reviews.
"I think we hit a home run with it," BHS band teacher Will Cooper said. "It's awesome. I don't say that very often. Everybody I've talked to that's gone in and toured it has said the same thing. I've talked to some of the workers there and I've asked them to compare it to other auditoriums. They've said it's the best one they've done. I'm amazed by it. If we treat it like we should and take care of it, it will last us 50 years. It's truly amazing."
Penner agreed, saying the district patrons will enjoy the PAC and all it has to offer.
"It's pretty," Penner said. "There's no doubt about it; it's a pretty one. Everyone can be proud of this. I think you're going to get lots of 'oohs' and 'ahhs' on this building.
"The outside will be fantastic, too," he said. "There are a few special things out here that no one knows about it, but they will notice them. They are really nice lighting effects. They should be really special."
Construction started on the PAC a year go. Ground was broken last spring and most of the outside construction was done during the summer before students returned in August. Much of the inside of the building has been completed during the past three months.
"The ceiling is what took a long time," Penner said. "Auditorium ceilings usually take forever. The inside ceiling takes months to finish. It's a lot of work."
Construction crews completed the majority of the theater seating area during the past month. Penner said the seats were added two or three weeks ago and then the handrails and carpet were added next.
"Every building in the world is like that," Penner said. "It's like, 'gosh, they worked last week after they spent all winter doing nothing.'"
The new PAC will have slightly larger seating capacity, better sound quality, lighting, electricity and a larger stage. There are also dressing rooms and bathrooms back stage.
"It is huge," Cooper said of the stage. "I play at the Topeka Performing Arts Center and this is not much smaller than that. We can bring in groups and shows, which is one of the reasons we built this facility. Hopefully, we can attract some of those. If they don't come, it won't be because of space."
The entryway to the facility is also new. It will be an activities entry to the building on the north side of BJHS. Visitors will enter there for the PAC and gymnasium.
"It will be a very nice entryway for all sorts of activities," Dorathy said. "For the gym and auditorium, it will be a great place for people to come into and mingle during intermission or between games."
The PAC's estimated cost is $4.74 million. As of March 31, the Federal Emergency Management Agency has reimbursed the district $2.15 million for the project and another $330,000 is expected to be reimbursed by FEMA. The entire project is also running under budget about $650,000.