Children's Choir receives gold medal at St. Louis competition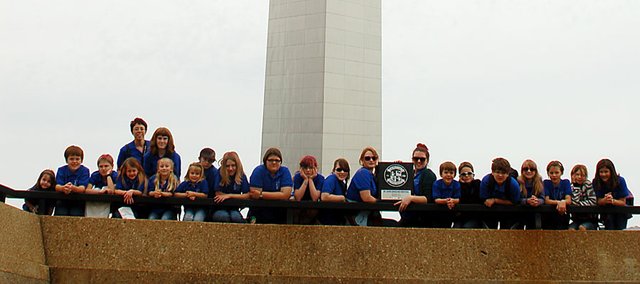 The Baldwin City Children's Choir is in its first year of existence, but is already receiving national recognition.
The choir traveled to St. Louis Friday through Sunday for the Heritage Festival Competition. The competition is for bands, choirs and orchestras. The Baldwin City choir went up against one other children's choir, with the rest being junior high and high school choirs. The Baldwin City Children's Choir, with members ranging in age from five to 18, received a gold medal, placing second overall.
"Our semesters are 12 weeks, so they've had this music for 12 weeks and we rehearse it for an hour each week," choir director Amy Potterton said. "So, that's even more amazing and you're competing against the high school and junior high groups, you know, who have the ability to rehearse every day each week."
Potterton said the "other great, exciting part that happened" involved Baldwin City eighth grader Courtney Houston. Houston took second place for the Maestro Award, which is for soloists from all categories, band, choir and orchestra, put into one award.
The choir's final event of the spring will be a concert Sunday.
The first part of the concert will be performances from the choir that traveled to St. Louis and the beginning children's choir. The second half is a choreographed performance, including music from "Oliver," "Annie" and more jazz-styled songs like "The Sunny Side of the Street." Kelley Bethell-Smith choreographed this section of the performance, and Potterton credits the work of Bethell-Smith and the parents of the choir members for making the concert possible.
Potterton said a tremendous interest and passion exists within the children who participate in the choir.
"I've never seen such kids who work hard and the dedication and passion and the desire to create incredible music, it's fantastic," Potterton said.
Sunday's concert will mark the end of the first year of the choir. After a summer off from rehearsal, auditions will take place next fall to assemble next year's choir.
With the first year of the program coming to an end, Potterton only sees improvement ahead for the choir.
"It's just going to grow," Potterton said. "You know, it's always kind of crazy to start a program like that, because you don't know if there's an interest. But I mean, we started right away with 40 kids in the fall, which I think is just incredible."