Black Jack site opening Saturday for season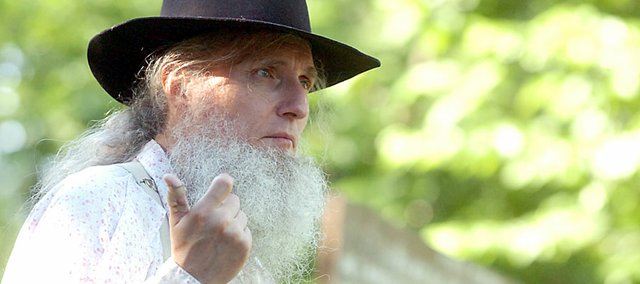 John Brown, Kansas abolitionist and historic figure, knows Black Jack Battlefield well.
The battlefield was the site of the first fight between proslavery and antislavery forces, and where Kerry Altenbernd, who gives tours at the Black Jack Battlefield and Nature Park, said he believes Brown first learned how to fight against slavery.
Brown will be back at Black Jack Saturday, hosting guided tours for the opening day of the touring season.
"To me, it's a place that gets into your blood and you don't want to get it out of there," Altenbernd said. "It just grabs you. It's such a beautiful place. It has a special aura around it."
Altenbernd has been re-enacting Brown since 2006 and has been doing so at Black Jack since 2008. Altenbernd does not usually give tours as Brown, but Brown is making an appearance because it is the opening day of the summer and this will be the fifth year of scheduled, guided tours at the park.
Altenbernd said while giving a tour as Brown, he did not just talk about the battlefield, but Brown's life as well, which he believed many people didn't fully understand.
"I tell part of his story, too, so people understand what happened, because Black Jack wouldn't have happened without John Brown being there," Altenbernd said.
Altenbernd has had an interest in the Civil War since he was a child, and about 10 years ago, he began developing an interest in Brown and the Black Jack Battlefield. He and a group of people purchased the battlefield land in 2003 and began developing it into a park.
"It's our history," Altenbernd said. "It's our Kansas history that most people don't know about, including most Kansans don't know about."
Tours of the battlefield and park are free, and the tour season runs from Saturday through the third Sunday in October. Altenbernd said he was unsure of how many people will be in attendance Saturday, but knew a group of school children would be at the park. On some occasions, 20 or 30 adults will come for a tour when they know Brown will be the tour guide, he said.
"However many show up is fine," Altenbernd said. "I don't mind giving a tour for a couple of people. It's not the volume, it's getting the information across."