Baldwin High softball sweeps rival Eudora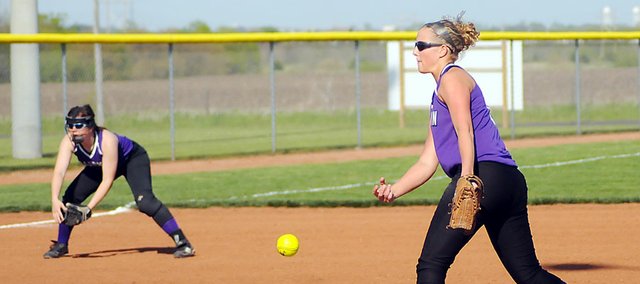 After a six-run rally to win the second game of Tuesday's doubleheader here, the Baldwin High School softball squad has won seven of its last eight games.
After winning its second game against the Cardinals, Baldwin High (10-6) extended its winning streak to four games. Since sweeping Louisburg on April 19, BHS split with Santa Fe Trail last Thursday, swept Prairie View on Friday and swept Eudora on Tuesday.
"We're on a nice streak right now," junior Hayley Schwartz said. "We've only lost a couple of games during the past week or two."
On Tuesday, the Bulldogs shut out Eudora in the first game and won 5-0. BHS followed it up with an 8-7 victory, despite trailing 7-2 after the third inning.
"I feel like we are playing well at this time of the season, which is where we need to be," Crist said. "We hit well. We had amazing defense. The girls never let up offensively and defensively. If they made some mistakes, they came back and corrected it."
In the second game, junior Madeline Brungardt led off the game with a double. She later scored on an RBI single from senior Morgan Burton.
The Cardinals piled on four runs in the bottom of the first inning. Two of the first three batters reached base on BHS errors. Later in the inning, the Cardinals hit a two-run home run to take a 4-1 lead.
Freshman Hailey Cope scored in the second inning for BHS. However, Eudora added three runs in the third inning to take a 7-2 lead.
In the fourth inning, the Bulldogs switched pitchers. Starting pitcher, Schwartz, took the mound after pitching all seven innings of the first contest. Eudora didn't score another run and the Bulldogs' offense came alive.
In the fourth inning, Burton led off the inning with a double. Two batters later, Cope hit a double that scored Burton. The BHS comeback had begun.
Seniors Karlee Beach and Kyla Good were walked in the fifth inning. They later scored, closing Eudora's led to one run. Baldwin took the lead in the sixth inning with a pair of runs. Junior Alexis Finucane and Brungardt hit singles and scored, giving Baldwin an 8-7 advantage.
"We hit well tonight," Crist said. "Some of them have a hard time adjusting to different pitchers. We are trying to get them in more of a rhythm and correct their hitting. So far, we've done a pretty good job. We've been working on running the bases, too. We ran the bases well tonight. It's nice to see those things happen.
"They had the ability to come back," she said. "They proved it and they did it tonight. I'm proud of them."
BHS held Eudora in the seventh inning to earn the sweep.
"It was so exciting, especially to come from behind and win the second game," Schwartz said. "My adrenaline was pumping and it was so exciting."
In the first game, the Bulldogs' offense took a few innings to get rolling. The game was scorelss through three innings. Beach scored the first run in the fourth inning after earning a walk.
Brungardt and senior Aspen Brooks scored in the fifth inning. Brungardt hit a single and Brooks hit an RBI double to lead off the inning. In the seventh inning, Beach and Good started the inning with singles and later scored. Baldwin won 5-0.
"A lot of us know quite a few Eudora people and players on their team," Schwartz said. "It's a big, hyped-up game. To come out and beat them in the first game felt so good; we had to keep it going in the second game.
"Our bats were really on tonight," she said. "It took us a while to catch up to their pitches, because they were a bit slower than we've been used to. Once we figured it out, we took it away."
Schwartz pitched all seven innings in the first game. The Bulldogs held Eudora scoreless with pitching and many diving catches.
"We worked a lot on that this week," Crist said. "We worked on diving catches in the outfield and infield. We adjusted some of our middle infielders to stop the ball up the middle. I think it worked well tonight."
Baldwin will play a make-up doubleheader at 4:30 p.m. today at home against Paola. On Monday, BHS will travel to Tonganoxie for a doubleheader. Those games also start at 4:30 p.m.
"Thursday is going to be tough," Crist said. "It will be tough. That's all right, because we are still building where we need to be and Paola isn't in our regional. If we keep playing like we did Friday and tonight, we will be OK."