Baker University's food service director retiring after 26 years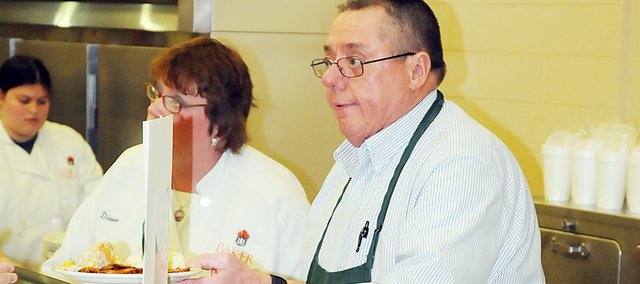 For 10 years, Darrell Bowersox moved from coast to coast, having to move his family roughly every two years while working for Saga Foods and other food companies.
After deciding he wanted to find a place and job to stay at for good, Bowersox took a job at Baker University. Twenty-six years after settling his family in Baldwin City, Bowersox is retiring from Baker as the director of food services and will be saying goodbye to his second family.
"You're walking away from your family," Bowersox said. "I'm not going anywhere, but you know, I won't be here every day. I'll miss students, and I'll miss all my friends here."
Bowersox came to Baker with a background as a Navy cook and working for several food companies. His task was to instill standards in dining services lacking at the university.
"I think the thing I am most proud of is the program that I've built over the years and that other people have helped with," Bowersox said.
A decision on who will fill Bowersox's position has not yet been made, but Bowersox is confident in the work the rest of the staff can do and is trying to get everything in place for the fall.
"There will be a huge hole when he leaves," said Tanya Sieber, assistant director of dining services. "I mean the work will get done. The torch will be carried on I'm sure, but there's no way that you can replace that."
Bowersox decided to retire last summer but has continued to devote himself to his job over the past year, making sure the program is in as good of shape as it can be when he leaves.
"You expect people in the twilight years of their careers to maybe check out a little bit, not be so invested, not care so much. Maybe, their passion fades a little bit," Sieber said. "I've actually seen the opposite happen with Darrell over the last year."
Although he will work through June 30, a reception will take place May 11 in his honor while students and faculty will still be on campus.
"Darrell's influence in the community is so far reaching," Sieber said. "He's been a part of so many different organizations, and everyone in Baldwin knows him, whether through a personal friendship or through an organizational affiliation."
With Bowersox's wife being a retired school social worker, neither of them had much free time in the fall. This fall, Bowersox said the two would travel to go camping and visit national parks, as well as be able to watch his grandson's football games in Osawatomie.
Bowersox will continue to visit his friends at Baker, but Sieber and the rest of the staff will be continuing his work without him. However, Sieber remembers who taught her the ends and outs of the job.
"All of those things I've learned through his very patient and generous mentoring," Sieber said. "And so, the more I've learned about our work, the more I have come to appreciate just what a treasure he is."