Wellness Festival to offer screenings, prizes Saturday morning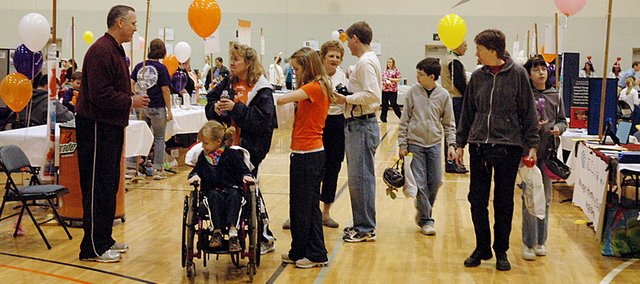 The Community Wellness Festival began as a small grant from the Douglas County Health Foundation and is now about to begin its 10th year in existence.
The festival, which is sponsored by the Baldwin City Recreation Commission and Baker University, drew 30 exhibitors and roughly 200 people in its first year. This year the festival will hold 70 exhibitors, while recent years have averaged about 300-350 people each year.
"The exciting thing is we have several new people, new exhibitors that have called and said that they heard this was the fair to attend," Ruth Sarna, Baker University's director of student health services, who is in charge of the festival, said.
Not only can people attending the festival visit booths and receive free health screenings, which include hearing, vision and blood pressure screenings, but people can also register for several blood tests to check their health. People must register for the blood tests by Friday for the cost to be $30 or the cost will be $40 for the tests if registered the day of the festival.
"That was our vision initially was that (the fair) was something that we could do for the community and have something that was offered to benefit the community," Sarna said.
Sarna has been planning the festival since December, when she reserved the date, and then began contacting exhibitors in January.
Sarna said 100 people have signed up for the blood tests this year, which is down from the last several years, and people could save $300-$400 by getting the blood tests done at the festival, rather than at a hospital.
"I just had my doctor's office call and say, 'well, you need blood work.' Well, I'm going to have it done here in a couple weeks," Steve Friend, Baldwin City recreation commission director, said.
Friend said the festival is a great opportunity for people to check their health without having to travel out of town or spend a large amount of money.
"Here, my wife and I get it for a very reasonable rate for the work that we're having done," Friend said. "So, I think that it's great that we don't have to spend an hour, two hours out of town."
The festival will take place from 9 a.m. to noon April 2 in Collins Center. This is also the second year for the 5K Community Run/Walk in association with the festival. The run/walk will begin at 8 a.m. April 2 outside Collins Center.
Along with health screenings, prizes will also be offered, including bicycle helmets for children, free T-shirts to the first 200 people who attend the festival and a drawing to win four bicycles.
"This is one of the events that's a benefit to everybody," Friend said. "You learn something or get freebee things or sign up for free gifts or whatever it might be, but most importantly you're doing it for your well being, for the well being of your family."
It was at a health fair that Friend discovered he had hearing loss he was not aware of, and Sarna said people taking part in the screenings have caught health problems or illnesses they did not know existed.
"We have had success stories, and that has been the exciting thing about it," Sarna said, "that (we've been) able to assist people in their health care and hopefully to extend their life and their lifestyle to be healthy."