Polls open Tuesday for city, school board elections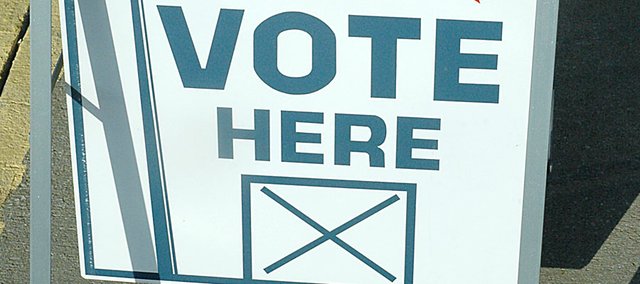 With voters set to go the polls Tuesday to decide who will win the seven open seats on the Baldwin City Council and USD 348 Board of Education, Douglas County Clerk Jamie Shew took the time to answer some questions about the voting process.
On Tuesday's ballot, there will 10 USD 348 candidates running for four spots on the Baldwin Board of Education and four city council candidates fighting for three seats. The polls will be open from 7 a.m. to 7 p.m. Tuesday. Polling locations within Baldwin City will once again be the American Legion Hall, Baldwin City Fire Station and the old Baldwin Elementary School. In the rural areas, Vinland United Methodist Church and Marion Center Hall also will be polling places on Tuesday.
This election will be the last for the former school as a polling location because it's no longer occupied, Shew said.
"The next election won't be for a year and a half," Shew said. "I know there is anticipation that someone will take ownership of that some point during that time."
Advanced voting has already begun for the election. Anyone wanting to vote before Tuesday should visit the Douglas County Courthouse in Lawrence between the hours of 8 a.m. and 5 p.m. today, Friday or Monday.
There will advanced voting from 9 a.m. to 1 p.m. Saturday in Baldwin City at the Baldwin City Fire Station.
"If someone can't make it by here, they can run by there next Saturday," Shew said. "If they want us to mail them a ballot, they have to first submit an application for that ballot. If they call us, we can send them one or they can go online, print one out and send it to the courthouse. Then we will mail it out."
Sample ballots are available online at the Douglas County Voting and Elections website. Polling places for Baldwin City and the immediate area are numbered 59-63. To find your exact poll, enter your name and date of birth on the "Voter Registration Search" page.
Some questions have been asked by USD 348 patrons about who they can vote for in the election. The school district is divided into three districts for elections.
Candidates must live in their section to run for position one, two or three. However, all registered voters are allowed to vote for every seat on the school board, including the at-large seat, position seven.
"The Baldwin School District uses what's called Voting Plan B," Shew said. "That was decided on by the voters in the 1990s. What it means is that the districts only come into play if there is a primary. If there is a primary, only the people in that district can vote on that district race.
"When it comes to the general election, everybody votes on every district race. Everybody will have on their ballot every position race for USD 348."
The school board candidates for position No. 1 are Nick Harris and Shawn Nelson; position No. 2 are Sandy Chapman, John Dunbar and Ed Kite; position No. 3 are Chad Christie and Slade Dillon; at-large position are Robin Bayer, Joshua Mihesuah and Tony Wedel. Mihesuah is the only incumbent running for re-election.
The four city council candidates are Ken Hayes, Jason Mock, Coy Weege and Shane Starkey.
Election coverage will be online at baldwincity.com Tuesday.