City staff plans electrical system upgrade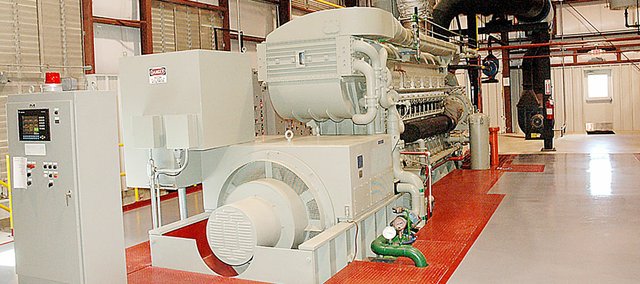 Baldwin City residents: don't say you weren't warned.
Upgrades to Baldwin City's electrical system on Wednesday and April 12 could possibly cause a power outage for hours. The city staff isn't expecting to lose service during the morning upgrades, but there is a chance it could happen.
"This is just a precaution," Dingman said. "Hopefully, nobody will see a difference or an outage. I'm 90 percent certain that will happen and only 90 percent, because we've never tried it before.
"We're certain, on paper, that it will work," he said. "The plans say it will work on paper. The only thing we haven't done is try it. That's why we think it's important to pass out flyers and go door-to-door with the business owners."
City workers have distributed flyers to every residential customer, notifying everyone of the situation. They have also passed out the flyers to local businesses.
On Wednesday, the electrical system upgrade is scheduled to last around four hours, from 8 a.m. to noon. It will last from 8 a.m. to 4 p.m. on April 12.
Rob Culley, Baldwin City power plant superintendent, said. "during these times, we will be bypassing the Newton substation all together and generating the city load directly from our power plant No. 2. This will require the linemen to 'parallel' all of the city feeders together as one, and then feed the entire city load directly from the generators at the power plant. While we do not anticipate any interruption of service, generating the city load isolated with all of the feeders paralleled does pose unusual challenges.
"If for instance a truck accidentally hits a power pole on the upper north end of town, the entire city may very well go offline as there will be no individual feeder breaker protection," he said. "If this were to happen, it doesn't mean the power would remain off for the entire time. The linemen would have to troubleshoot the problem, isolate the area, reopen all the switches, and then a restart at the power plant would be possible. This could take upwards of 45-90 minutes to complete depending on the circumstances."
The city will be making the upgrade, because of system voltage upgrades and Baldwin City's overall increased electrical load. The city will be adding breakers to the power plant substation, which has only four breakers right now. Adding additional breakers will provide the city an avenue to distribute some of the excessive load to other feeders making the existing loads more manageable, according to Culley.
On Wednesday, workers will prep the existing switchgear building to accept the addition. Next Thursday, they will have a crane on site to set the new addition in place. On April 12th, workers will make the electrical connections inside the switchgear, connecting the new section to the original.
Some residents have asked why this project couldn't be completed during the night, in case of a power outage, which might interrupt business hours. Dingman answered that question.
"We still have all of the schools and businesses to worry about during the day," he said. "They are counting on having power. We've had various people ask us why we're not doing an overnight outage. Our original plan was to do an overnight outage for several hours. That wouldn't work for a few reasons because some people couldn't do it. We tried to come up with an alternative to that and we thought on a couple of mornings in April, the load would be low enough that it could carry the load easily."
Anyone with questions should contact the public works department at 594-6907. If there is inclement weather, the project will be pushed back one week. The workdays will become April 13 and April 19.