City council candidates address high electrical rates at forum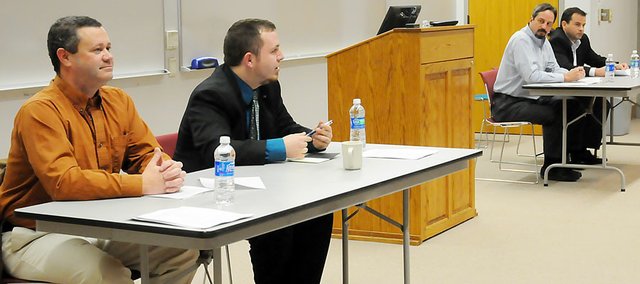 The four candidates running for the Baldwin City Council are concerned about the city's electrical rates while speaking of the cause and ways to address the issue.
Baldwin City's second pre-election public forum was Tuesday evening at Baker University. The first was last week for the 10 USD 348 Board of Education candidates.
On Tuesday, the forum was run similar to the previous one. Each candidate gave an introductory speech, answered five questions and closed with brief remarks. The first question of the night hit on a hot topic for many Baldwin City residents.
Tony Brown, forum moderator, delivered the question: "It is frequently stated that Baldwin City's overall utility rates are higher than those of surrounding communities. Do you agree with this statement? If so, how would you propose to help reduce the utility rates?"
Jason Mock responded first.
"No one ever really throws me numbers," Mock said. "They just say, 'my electrical bill was really high this month. Everyone around us has to be cheaper.' In my written answer, you can see that Baldwin is more expensive. That's part of owning our own electric utility.
"So there are two options. We get rid of own utility, or we continue paying high prices. We have to decide as a community whether the convenience and benefits associated with owning our own utility are worth paying the extra amount. That's something the whole community should decide."
Shane Starkey was next to answer the question.
"I would like to find out if there are other communities that are operating a similar power plant like we are," Starkey said. "If so, what methods are they using to keep their costs down? Are we trying to blaze our way through this without anyone's help? I do believe there are things that can be done, but without specific knowledge, it's difficult to pinpoint those exactly."
Up next, Coy Weege said research on previous city councils' decisions was needed.
"Obviously, we are more expensive, but we have to find out why," Weege said. "Is it going to be less expensive if we don't have our own utility? I also believe we need to work with the current council and find out why they haven't changed it. There has to definite reasons, or it trickles down to the mayor and the mayors before him. We need to do some research and not just the cities around us. Why are we considered the highest in Kansas? We need to work together and solve this problem."
FKen Hayes said his term as mayor from 2001-2005 gave him a better understanding of the situation but said something must change.
"Electricity and Baldwin City — two things that always seem to go together," Hayes said. "I do not support the rate increase that's coming this summer. We need to learn how to operate within the money that we have coming in and the money that we have already.
"We're what I like to call, tail-end Charlie as far as KCPL We're the last city on their power line, so when the power drops in our area, our line is the last to be fixed. That was the reason behind having the utility, keeping the utility, spending the money on the infrastructure and building the power plant. Internally, we have to find a way to spend less and lower our rate. We cannot afford to stick our citizens with another raise."
The four candidates also answered questions about the current mayor and city staff, economic development in Baldwin City, collaboration with Baker University and USD 348, the "quality of life" sales tax and what their top three objectives would be if they are elected.
During their introductory remarks, Hayes, Mock and Weege said they grew up in Baldwin. Hayes attended elementary school here, while Mock and Weege graduated from Baldwin High School. Starkey said he moved to Baldwin City 12 years ago and is happy he made his home here.
The candidates' opening comments and answers to all 10 questions can be seen online at baldwincity.com.