BHS

seniors ready to end careers on a winning note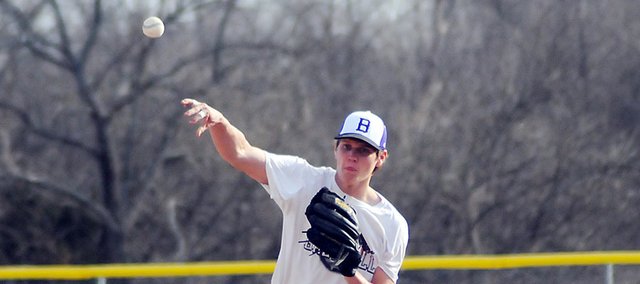 Many of the names and faces on the Baldwin High School baseball uniforms haven't changed in the past three years, but the attitude is different this spring.
The group of eight BHS seniors on the Bulldogs' baseball team have endured three losing seasons while many of them have seen significant varsity playing time. Hype surrounded them when they were freshman, yet they've struggled to produce victories.
As their final season in the BHS uniforms kicks off today, the battle-tested Bulldogs have one goal — a winning season.
"Our seniors will do anything to help make this a winning program," senior Will Von Bargen said. "We want to win and whatever it takes to do that is fine for us. We believe all the hard work our coaches are giving us will pay off and turn this program around."
Senior Kyle Pattrick expressed the same feelings as his teammate and classmate.
"My first three seasons we did not come into the season with very high expectations, but now with things changing, we are expecting great things to come of this season," Pattrick said. "Not only do we want to have a great senior season, but we want to become closer as a family. With the whole family working together we can accomplish great things."
The biggest change heading into this season is a new head coach. Brian Turk, a 2004 BHS graduate, is at the helm this spring. Not only does he hope to turn the program around by having its first winning season in five years, but the players are buying into his team goal and philosophy.
"We have eight seniors," Turk said. "We will be relying on them to carry us. The majority of them will be on the field at all times. Our team goal is to get over that .500 hump and we have a great team to do it. The kids are buying into and they want it to happen. We just have to work toward it every day."
Turk's players have enjoyed their new coach during the first month of season, which has been full of practice after practice.
"I think it is going good as of right now," Von Bargen said. "It has been a pretty easy adjustment just because everyone wants to make a change to this program and start winning. I think everyone on the team really enjoys having him as our coach and enjoys all of the other coaches just because they want to win just as bad as we do."
During his first few weeks with the BHS players, Turk hasn't tried to change many of the fundamentals that the Bulldogs are taught. However, he has tried to instill a tougher work ethic and mental attitude at practice.
"Every day, we stress improvement and we emphasize working on that," Turk said. "We are definitely getting better. We're still working on the mental aspect of the game. That will be our toughest part. Physically, we are a pretty talented group."
His players are buying into their new coach before they've played any games.
"We all knew adjusting to a new coach would be a tough thing but it is going great," Pattrick said. "Not only do I like him and what he is doing, so does the rest of the team. He has a great mindset and really knows what he is talking about when it comes to baseball."
Von Bargen agreed with Pattrick.
"The big difference this year is the total team effort," he said. "We all run on and off the field and we don't talk much in practice. We get on the field and work as hard as we can to get better and then work hard in the classroom. We also want to get the younger guys to get the mindset of always working hard and not fooling around like we did in the past three years."
Pattrick and Von Bargen are two of the Bulldogs who will see plenty of time on the field. Pattrick and fellow seniors Josh Hoffman, Jesse McDanields, Nate Growcock and Justin Vander Tuig will play on the infield many games.
Von Bargen will be joined in outfield by junior Hunter Burkhart and junior Conner Sublette. Other players that will see playing time around the field will be junior Tyler Cawley, junior Tyler Brenn and other players.
"Cory Stephens, Colton Bonner, Alex Twombly and Colton lowe will work into lineup as situation provides," Turk said.
A handful of Bulldogs will also see time on the mound. Turk said it will be rotating committee of pitchers, especially during the first half of the season.
"We have about six guys that we will want to throw for us," he said. "They will all be called upon at sometime to pitch."
The Bulldogs will start their season today at De Soto. They will play at Ottawa Tuesday. Both doubleheaders will start at 4:30 p.m.
"Thursday is looking good," Hoffman said. "I wish we could have another week of practice with nice weather, but you just have to deal with what you're dealt."