Baldwin High track, field teams enter season with lofty goals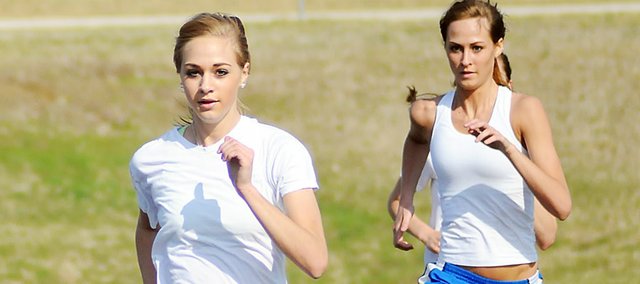 Mike Spielman and Ted Zuzzio are excited about beginning the Baldwin High School track and field teams Friday at Liston Stadium.
Both BHS coaches have high expectations entering the 2011 spring, as well as their athletes do this year. The Bulldogs' season starts at 3:30 p.m. Friday at Baker University's stadium.
"We have a lot of kids returning that competed at state last year," said Spielman, BHS boys' coach. "We've got some really high expectations. We want to be one of the top teams in the league, regional and state."
Zuzzio's BHS girls' squad was the top team in Class 4A last year at the state meet in Wichita. The Bulldogs brought home their first-ever 4A team championship. They lost two seniors who competed at the state meet, so goals are high this spring.
"Our expectations are pretty high," Zuzzio said. "We enjoy competing. We won nine meets last year and we want to continue that into this season. We've got five seniors that all have state medals and I think they are hungry for more."
The BHS girls have lost one of its top athletes before the season officially started. Sophomore Katie Kehl, who finished second in discus and third in shot put at the state meet, injured her knee at the end of the basketball season. She had surgery on Wednesday and will not compete this spring.
While Kehl will be out with a knee injury, the Bulldogs have seen the return of one senior who missed the last month of her junior campaign because of a knee injury. Senior Lyndsey Lober should help the Bulldogs in the 100-meter hurdles, 400-meter relay and the 1,600-meter relay.
She is joined by her sister, freshman Morgan Lober, this year. The Lober sisters are expected to help the Bulldogs.
"It's nice to have them competing," Zuzzio said. "When I had my great basketball teams, we had sisters on the teams. We have the Howard and Lober sisters. They will all be competing at the state level."
Senior Allison Howard and sister sophomore Monica Howard are also expected to make an impact as they have every year. Allison has medaled in discus every year at state, while Monica will compete in many events, including long jump, high jump, hurdles and relays.
"Monica is going to be our number one high jumper and javelin thrower," Zuzzio said. "She can also do about anything on the track."
Other Bulldogs who scored at the state meet are seniors Myranda Behrens and Ramie Burkhart. They scored in the 300-meter hurdles. "The hurdles races should be good events for us with our three seniors and Monica," Zuzzio said. "They are all going to be very good for us."
Sophomore Kaitlyn Barnes also medaled in the 800-meter run. Barnes will be joined by sophomore Sienna Durr, freshman Katie Jones and other Bulldogs in the distance events.
"Our girls are better this year in the distance races," Zuzzio said. "We were very young last year and we'll still be young. Some of the girls have one more year of experience. We've got a lot of interest there that will help us."
Zuzzio also expects senior Sammi Meisenheimer and sophomore Elena Watson to impact the team. Both might be on relays, which were important each meet of the year.
"We're reloading on the relays," Zuzzio said. "I think we will be right at the same level or better this year."
Spielman's boys' team is also planning on being one of the best teams in state when it comes to the 400, 1,600 and 3,200-meter relays. They've had relay teams that have scored at the state meet almost every year.
"We are going to run the same four guys we ran at state last year," Spielman said of the 1,600 relay team. "That's going to be nice. We should be competitive every meet."
The 1,600 relay members will be senior Josh Hoffman, senior Carson Barnes, junior Asher Hannon and junior Brian Wright. All four of them will also be contributing to the Bulldogs' team score in other track and field events.
"Everybody is trying to be on the 4x400 team," Hoffman said. "We have a couple guys trying to get on the team. It's been a pretty big thing to get on that team lately."
The Bulldogs' top points scorer from state will be senior Tony Weiss. He medaled in the 1,600 and 3,200-meter run, as well as the 3,200 relay.
"He medaled in three events at state last year," Spielman said. "That kind of makes him the leader in the clubhouse. He went out and medaled in three races. We're hoping we can have some others join him this year."
Other state qualifiers include senior Jesse Austin and sophomore Dayton Valentine. They qualified in the discus and shot put. Sophomore Caleb Gaylord is also expected to help in the throwing events.
"We have both guys that qualified for state in the shot put and discus back," Spielman said. "They are both hoping to have big seasons. Caleb Gaylord is out working on the javelin. I think we have some promise in our throwing events."
Both BHS teams are ready to begin their seasons Friday at home.
"We are excited about the weather," Zuzzio said. "It's supposed to be in the 60s. We're ready to get started."