Congresswoman visits with area constituents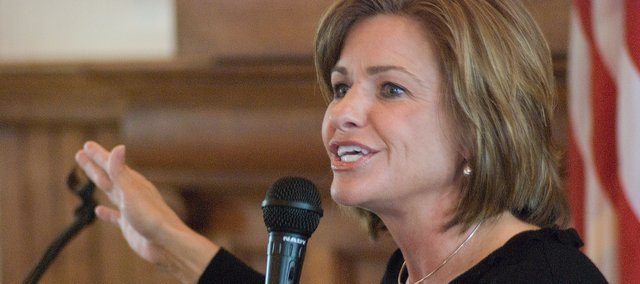 Congresswoman Lynn Jenkins stood in the lobby of Patriot's Bank in Wellsville, listening to questions and concerns from her constituents in Kansas' 2nd Congressional District.
Jenkins acknowledged the members of her district are not afraid to speak their mind, and she is thankful for that.
"Folks are not terribly shy around these parts at letting us know exactly what is on their mind and what their top priorities are," Jenkins said. "So, I'm thankful for a constituency that isn't shy."
Jenkins met with area residents for roughly an hour, as part of her "Congress to Kansas" listening tour, before traveling to the next stop on the tour in Paola. Kansas State Rep. TerriLois Gregory and Kansas State Sen. Pat Apple were also in attendance
Jenkins has been touring cities in the district during the current session of Congress since visiting Oskaloosa on Jan. 18.
Baldwin City resident John Dunbar was in attendance Saturday, and although he was glad to see the turnout that arrived to speak with Jenkins, he would like to see more people getting involved.
"I think the fact is that the autopilot mentality that we've had in our country in a lot of years needs to end," Dunbar said. "If we're going to get a handle on this, we've got to get our hands on it."
Jenkins spoke for about 15 minutes, covering topics such as healthcare, the economy and the nation's debt and budget, before opening up the floor to questions from the audience.
"We're not going to see real economic recovery until folks know what kind of business climate they are working in," Jenkins said, when asked about her view of the economy.
Jenkins said job and economic growth seem to be the two most important issues for the constituents she has visited.
"Right now, there's so much uncertainty that people are frozen. They're sitting on cash, they're not investing, they're not building, they're not doing anything," Jenkins added about the state of the economy. "They're just crippled because they don't know. What we have to do is give them some certainty, and I'm concerned that in the short window, in the next two years, we can't give them enough certainty to get the economy stoked the way that we need to."
Jenkins believes the message that it takes time to see changes made is one that needs to be expressed.
"We are an instant gratification society and that is a part of the communication process that is needing to take place," Jenkins said. "… Government is messy, it's inefficient, it makes no sense, but it's the best that the world has, but it takes time."