Softball squad ready to open season at home Tuesday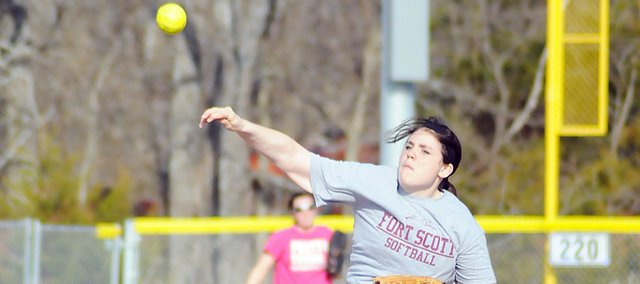 During her first few weeks as a head coach, Ginger Crist is trying to instill a new mindset in her Baldwin High School softball players.
Crist was hired as the third BHS softball coach in its decade of existence. She was hired months ago, but the season didn't begin until the beginning of the month.
Since practice started, Crist has increased the level of work at practice from previous years and made a few changes to the line-ups.
"You can ask them, but it's a big change," Crist said. "I have higher expectations than what they've had in the past. They know we are out here to take care of business. We are not out here to have a good time."
"I've made a lot of changes and made some girls mad," Crist said. "I probably made some parents mad, too. I don't care that they've played varsity the last two years. It will give them some motivation to get their spot back on varsity. But I have made some defensive changes that I feel are going to win us some games. I put girls in some spots that they thought they shouldn't be, but now they like it. They feel comfortable there now."
Many of the players have been receptive to Crist's coaching style. They talk about how hard she works them, but they've enjoyed it and believe it will make them better. They hope it helps them improve from an 8-11 record a year ago.
"It's intense," junior Kaysha Green said. "It's on a new level. It's like we're constantly competing. It's fun, but we're working a lot harder than we have since I've been here. I think it will benefit us in the long run. Hopefully, it will turn our program around."
One of the players adjusting to change is senior Karlee Beach. After playing third base for the Bulldogs during the previous seasons, Crist moved freshman Hailey Cope to third base. With Cope at third, Crist moved Beach to second base, which was a whole new world to her.
"It's been pretty good," Beach said. "I'm excited about playing a new position. I'm going to see what I can do at second this year. It's so different. I get so turned around, but coach Honomichl has been working with me to fix it up a little bit. I'm getting better."
One of Crist's goals as head coach is trying to instill a different attitude in the BHS players. She wants them to keep the mental side of the game in perspective at all times, whether in the field or at the plate.
"I keep telling them it's a mental game and a thinking game," Crist said. "You have to be thinking at all times. A lot of it is reactionary. You have to think and act without being told by a coach. By the time a coach tells you, it's too late. The other thing is you have to relax and not get frustrated. It's a competitive and can be frustrating, but you have to brush it off and move on."
Crist's inaugural season has off to a good start as far as weather in concerned. The Bulldogs are usually forced to practice indoors during most of March because of rainy weather. However, that's not been the case this year.
Baldwin has practiced at the new complex, which opened last year, almost every day this spring. It's allowed the team to practice more real situations, such as ground balls and pop flies to the outfield.
"We've been outside a lot, which is unusual for this time of the year," Crist said. "We've only been inside three or four times. This ballpark is beautiful and the blessing is our varsity field is the driest field out here."
The Bulldogs have also enjoyed the outdoor practices and learning to adjust to their new coach.
"We're working hard, running and learning new signals and plays," Green said. "It's new coach, so you kind of have to adjust. She's been with us, so it's not that much adjusting."
Crist isn't new to BHS softball. This is her eighth year at Baldwin. She's been an assistant for the previous seven years. Before coming to Baldwin, Crist was a coach at Gardner-Edgerton for 14 years, seven of those as the head coach.
"I didn't know if I was going to go back into head coaching," Crist said. "I liked being an assistant. My daughter is a senior at Gardner and my son is a freshman in college so I felt like it was an OK time in my life to go back into head coaching. After coaching with Ginny and Bob, I felt like I had more to offer the team than being an assistant. I was either going to be done coaching or take over the head spot."
Crist's debut as head coach will be Tuesday at home against Wellsville. The doubleheader will start at 4:30 p.m.
"I'm ready to play," Beach said. "Hopefully we can get out there and show how we've improved from last year. I'm kind of nervous, but hopefully I can play well at second base."
Junior Hayley Schwartz will be the Bulldogs' No. 1 pitcher. Baldwin's catcher will be senior Kyla Good, sophomore Kaitlyn Christie or freshman Madeline McCrary. The rest of the infield will be senior Morgan Burton at first base, Beach at second, junior Madeline Brungardt at short stop and Cope at third base. In the outfield will be a combination of Green, sophomore Kaitlin Jorgensen, senior Aspen Brooks and sophomore Katie Pattrick.
They are ready to start playing games.
"We open at home, so that's beneficial for us," Green said. "It will be fun. It will be a good test for us to see where we need to improve and tweak. I'm excited to get some games going."