School board candidates answer questions at public forum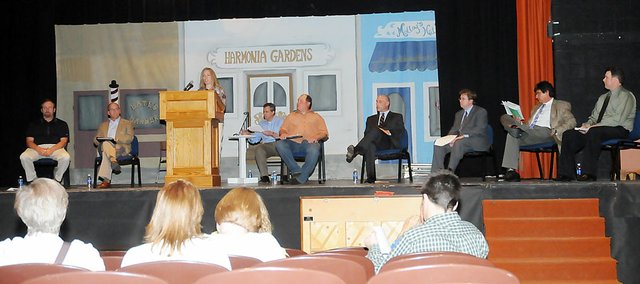 All 10 USD 348 Board of Education candidates for the April 5 election had their chance to answer questions in front of voters Tuesday night.
It was their first time to appear in public as a group since they filed for the election in January. Approximately 80 Baldwin School District patrons attended the forum at the Baldwin Junior High School auditorium.
"I want to thank each candidate for coming out tonight," said Ivan Huntoon, forum moderator for the Baldwin City Chamber of Commerce. "We hope to see everyone at the poll April 5."
Each candidate answered questions about the elementary school consolidation, their top three objectives if they are elected, promoting a positive climate as a board member and whether or not to cut sports and extracurricular activities. They wrote out and turned in their answers before the forum, but the candidates didn't read responses word for word.
The candidates' answers were printed up and available for attendees Tuesday. Their answers will be posted on The Baldwin City Signal's website. The other topics answered include budget, current board of education, personal qualifications and the goal of public education.
The 10 candidates gave brief personal introductions to start the forum and short final statements.
Here are the final statements from each candidate:
Tony Wedel (at-large position)
"It's good to see that there is still a passion for education. There's too many times where you don't see that. I'm sorry you had to sit through my answers. I'm not as polished of a speaker as everyone else. Having said that, I don't believe there is any reason to follow other districts. We should be setting the example. We need to do what's best for us."
Josh Mihesuah (at-large position)
"As I said earlier, I feel like I'm applying for a job when I'm doing this. I feel like my experience will help me on the board. You have to get out there and do it. Some of the things said tonight can be rebutted, but we can't do that tonight. I've been a school board member for 10 years, and I never stop learning. Every time I go to a school board meeting, there is something new. I have no hidden agenda. I'm here for all of the kids."
Robin Bayer (at-large position)
"If I am elected, I make the promise that I will be your hardest-working board member. I'll always be prepared for meetings. I'll always do the research ahead of time. I'll consult the experts in the district and those outside the district so that I can make the best decision possible. We can't make any more bad decisions on the school board. Every decision must be treated like a life or death situation for the district."
Slade Dillon (position No. 3)
"This is progressed. Six of the last seven positions have been unopposed. This is part of how you get to where we are now where there's a diverse group of people that you can choose from. You have choices. This is progress. We are getting somewhere now. I'm happy to see this many people put themselves out there."
Chad Christie (position No. 3)
"I got started with this process a year ago when they talked about cutting athletics at the junior high. I got up in arms at a meeting and sat there and listened to how bad we were as a district. It was really an eye-opening experience, because I hadn't paid attention. Shame on me. I didn't know how bad we were. Then I started going to the meetings and seeing the process. That really sparked my interest. I feel like I can add to the district and make good decisions."
Ed Kite (position No. 2)
"I'd ask you all to consider three qualifications. Those are my broad business background, my involvement in the community and my passion for education in USD 348. I am committed that I will make fact-based decisions and keep the education of children at the forefront of Baldwin City's claim to fame. If I am elected, there are four areas that I will continually address on the board. Those are to be a good steward of the district's finances, recruit and retain the best teachers, provide the teachers the proper tools and facilities and most importantly, have our administrators provide an environment in the classroom for the teachers and students to excel. I believe I can help in those four areas."
John Dunbar (position No. 2)
"I would want any of these people on the board and I would serve with them. If you want me there, all you have to do is vote for me to be there. I have no hidden agendas and I really do care about the kids in our schools. Education is very important to me. I want the best for our community overall."
Sandy Chapman (position No. 2)
"I agree with Slade — this is progress. I've heard lots of great ideas tonight. There is lots of great passion and lots of people who want to serve. The most important thing you can have on a board or in an organization is diversity. There are no right or wrong decisions; there are just the best decisions for our students. There is the best decision to move academic achievement forward in Baldwin."
Shawn Nelson (position No. 1)
"It is great to see a community interested in their children's future. You've got the tough choice now. Our hard part is over. Yours has just begun. I'm going to give you a little bit of homework. As a former teacher, I've got to do it. There are empty seats here. When you leave here, go talk to people you know. Share with them what you think. I've tried to tell you about myself, but go to my website, www.shawnnelson.org. My cell phone and email are on there. I believe in communication and transparencies. I believe in coming together as a community."
Nick Harris (position No. 1)
"I've had the privilege of teaching every grade level from kindergarten through graduate students in college. When a parent leaves their kid at school, they put their trust in that teacher. As a member of the board of education, I would hope the community will put their trust in those of us who do get elected. Everyone may not agree, but everyone can come to a common decision."