BHS

tennis, track teams enjoying warm weather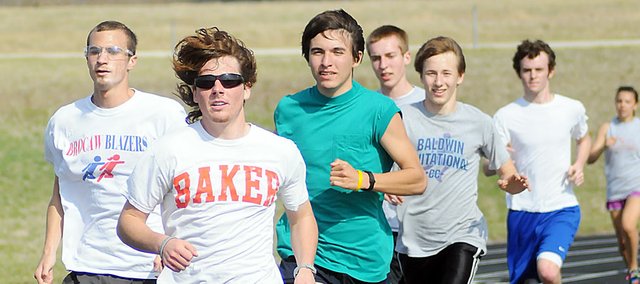 This year's March weather has been unusual, but in a good way for the Baldwin High School boys' tennis team and track and field teams.
The Bulldogs have been practicing outside during the first three weeks of the 2011 season, which is unusual for early season practices. While the temperature has fluctuated, the rain has stayed away most days.
"We've had some really good days and some not so good days," BHS boys' track coach Mike Spielman said. "We've been inside a couple days early on because of the weather, but most days we are out on the new track. It's been really nice having something close and something of our own to work on each day."
The BHS boys' track and field team has 28 participants out this year, which is at the average of 25-30 students. Meanwhile, girls' coach Ted Zuzzio has his highest number out this year. Zuzzio has 36 girls on his track and field team.
While the weather's been helpful most days, Zuzzio's dealt with students traveling for spring break and the BHS French trip to France.
"We've had a couple good days," he said. "It's been up and down. We've had a couple of good workouts, but it's been warm one day and chilly the next. We are getting the team back together, but we kids all over the world."
On the other side of the BHS sports complex, the boys' tennis team has been busy this month. Coach Justin Hoffman has 11 boys out this spring.
"We have been fortunate to have good weather thus far," Hoffman said. "Practices have been going well and I think the guys are ready to get some competitive play started. With a small team, we have been able to work on specific skills and shots more effectively."
The BHS boys' tennis team returns two state qualifies, juniors Tucker Brown and Tim Larson. The BHS seniors are John Robbs and McKinley Dick. The junior varsity team plays Tuesday at De Soto, while the varsity begins Wednesday at Mill Valley.
"I am ready to get a look at how competitive we will be and look to establish a solid lineup," Hoffman said.
Baldwin's track and field teams will host the Baldwin Invitational April 1. The Bulldogs will have two weeks of practice time after the first meet before they head to Wichita for the next meet.
"We will get to have the first meet and see where everybody is at," Spielman said. "Then we can take a couple of week and get in better shape and keep improving."