BHS

alumnus aims at turning around baseball team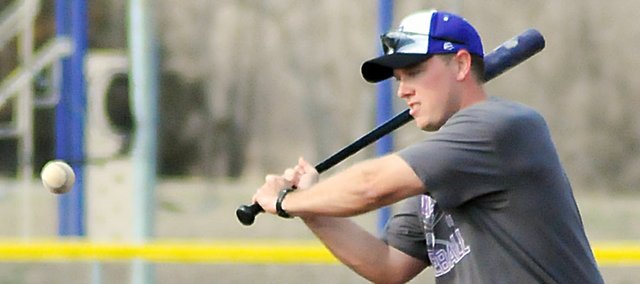 Baldwin High School alumnus Brian Turk hopes to lead the Bulldogs' baseball team to its first winning season in five years.
He knows to achieve the players' goal of their first winning season as Baldwin it will take a change of attitude and dedication to improving every day. That's what he has been working on since practice started for his inaugural season at the beginning of the month.
"I was part of the initial program in 2002," Turk said. "I have a lot of passion for the game and I want to see this program headed in the right direction. I hope we can get a new wave of energy in here and try to develop a steady program that can compete in the Frontier League."
Turk was hired as the fourth Bulldogs' coach since baseball was added to BHS in 2002. Their last winning season was 2006. The BHS players have enjoyed working for their new coach.
"It's been great," senior Nate Growcock said. "Everybody really likes and respects him as a coach. We are just working hard every day."
Turk worked with many of the current BHS baseball players during the summer on the Baldwin American Legion team. That was his first chance to coach the players. It was a learning experience, but it helped establish himself with many of the players.
"Coaching the summer program for the past two years has really helped, as far as the younger guys knowing what we expect," Turk said. "We're really trying to push playing the game the right way and fundamental-type things.
"Some people think in baseball you just go out and it's kind of a laid back type of atmosphere," he said. "It's not. If we are going to compete, we have to have high energy and focus every day. It's a battle to get these guys to do that every day so we can raise it up to the next level."
Since practice started more than three weeks ago, Turk and the his assistant coaches are trying to establish the proper work ethic during practice. They know hard work is necessary, but they must not overdo it early in the season.
He's enjoyed the first few weeks of practice, but hopes the players keep improving as the season progresses.
"It's up and down," Turk said. "There is no consistency day to day. We will have a really good practice and then we relax the next day. You can tell the results aren't as good. Then the next day, we have to kick it up a notch and be more demanding. It's our job as a staff to figure out what buttons to push to keep it at a high level.
"Our younger guys are staying more focused," he said. "It's our older guys that we have to keep focused. They get to messing around a little bit. I'm really pleased with the effort. We just have to develop consistency. We want a loose, but focused atmosphere and knowing where to draw the line. That's what we have to figure out."
The Bulldogs, who haven't had a record at or above .500 at BHS know they must work hard to achieve their goals. Many of them have played on varsity for two or three years and this is their final season as a Bulldog.
"Our team slogan is 'Go to work,'" Growcock said. "That's what we plan to do every day. We have a very blue-collar-type attitude about it. Our whole goal is to win. It's an all-around dedication. We need to get kids more dedicated to what they are doing. I think we have a good coach to help us do that."
The Bulldogs will keep working and preparing for their season opener, which is March 31 at De Soto.