Two
BHS

students honored as Academic All-Stars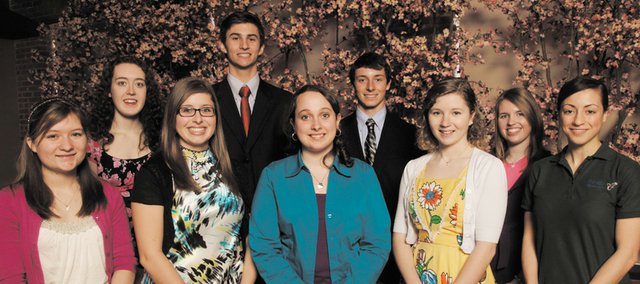 Ten students from eight area high schools, including two students from Baldwin High School, are more than successful in the classroom, involved in their communities, articulate and effective with the written word, and capable of leaving strong impressions among established academic leaders.
Actually, the Journal-World's 2011 Academic All-Stars are all that and more.
"They fill a broad picture, one that's more than just academics," said Robert Harrington, a professor of psychology and research in education at Kansas University, who served as a judge for the competition.
The newspaper's 2011 All-Stars are Carson Barnes and Ann Wallsmith, Baldwin High School; Shereen Fattaahi, Veritas Christian School; Angela Hawkins, Santa Fe Trail High School; Madison Hunter, Tonganoxie High School; Corrinne Hoffhines, McLouth High School; David Lawrence, Bishop Seabury Academy; Rosemarie Murray, Free State High School; Anna Stone, Ottawa High School; and Marshall Thurman, Bishop Seabury Academy.
Judges were Harrington; Austin Turney, a former president and member of the Lawrence school board; and Rand Ziegler, vice president and dean of the College of Arts and Sciences at Baker University.
Selection criteria included academic achievements; extracurricular activities, including community involvement; a written essay, judged on grammar, clarity, development and passion; and overall judges' impressions.
All-Stars and their guests were honored during a luncheon Wednesday at Pachamama's, 800 N.H. Guest speaker was Val Stella, University Distinguished Professor of Pharmaceutical Chemistry at KU.
Stella urged the All-Stars to chart their educational futures based upon the people they would be surrounding themselves with, not necessarily upon the name of a college or university. Stella, a native Australian, explained how he came to KU to study under Tak Higuchi, a professor he regards as an "immortal."
The students each received a gift during Wednesday's luncheon. The Journal-World has honored a class of outstanding students annually since 1997.
Carson Barnes
Carson Barnes started with the Real World Design Challenge at the insistence of a teacher. Little did he know that because of the challenge he would eventually meet President Obama.
Barnes and his team won the challenge in 2010 for designing a jet engine tail to deal with fuel efficiency in aviation. After putting in 200 hours of work on the project, Barnes was named a national champion.
"We were ecstatic. It was awesome," he said. "We were kind of in disbelief, because we never thought it would win."
Barnes is interested in all kinds of engineering and is planning to go into mechanical. He also likes the organization side of things. It helped him keep the design project in check, but it didn't prepare him for meeting Obama.
"It's hard to describe. He has his presence in a room, and time stops for a minute," he said.
When Barnes isn't winning national championships, he's out on the track, working to improve his event, the decathlon. He started the sport when he was 8, and ever since has been dedicated to it.
"I really got hooked," he said. "I'm a little bit of everything. I do the decathlon."
Barnes said he tries all different types of activities to see what he likes, but he knows that engineering is his passion. His victory in the challenge only reinforced that.
"It's shown me that I can do what I set my mind to, and there's lots of opportunities," he said.
School: Baldwin High School
Grade-point average: 4.0
Class rank: 1
Parents: Mark and Sandy Barnes, Ottawa
Highlights of achievements: Principal's Leadership Award (12), KU Engineering Expo: Rube Goldberg Champion (9), Real World Design Challenge state champion (10-11) and national champion (11), National Honor Society (10-12), choir (10), debate (9), 4-H president (10-11), BHS for VETS club (10,12), Fellowship of Christian Athletes (9-12), track (9-11), basketball (11).
College: undecided
Career plans: engineer
Major: undecided
Ann Wallsmith
Ann Wallsmith gets to play Quidditch at school this year. For all the Harry Potter fans out there, she says it's actually quite a workout. The activity is for the Harry Potter Club at her school, which has about 30 members. Wallsmith and her friends started the club, which meets once per month. They bonded over the books, which had played a big part in their lives.
"It might sound a little dweeby, but it's helped a couple of us through some tough times," she said.
Wallsmith loves to read, and she loves J.R.R. Tolkien's Lord of the Rings trilogy, which she tries to read every year. She said her dad taught her how to read when she was only 3.
"I remember him making flash cards," she said.
Many of the things she loves now came at the suggestion of her elders. Her middle school band director asked if she wanted to play bassoon, which is now part of the large range of instruments she plays: clarinet, bass guitar and piano.
A teacher also pushed her toward engineering, which she hopes to go into after college. She was hesitant at first, but after attending an event at Kansas University on women in engineering she realized the possibilities in engineering were endless. After earning a chemical engineering degree and going to graduate school, she hopes to improve or design medicines.
"Sappy as it sounds, I want it to mean something. I want to help someone," she said.
School: Baldwin High School
Grade-point average: 4.0
Class rank: 1
Parents: Dan and Heather Wallsmith, Baldwin City
Highlights of achievements: National Merit Commended Scholar, Kansas State Scholar (12), Honor Roll (9-12), KSPA State journalism competitor (11), Band (9-12), journalism, news and editor-in-chief (11-12), National Honor Society (11-12), musical theater (9-12), choir (9-12), Harry Potter Club (12), church youth group (10-12).
College: Kansas University
Career plans: pharmacy
Major: chemical engineering
Reporter Brenna Hawley added to this story.