State basketball champions reunion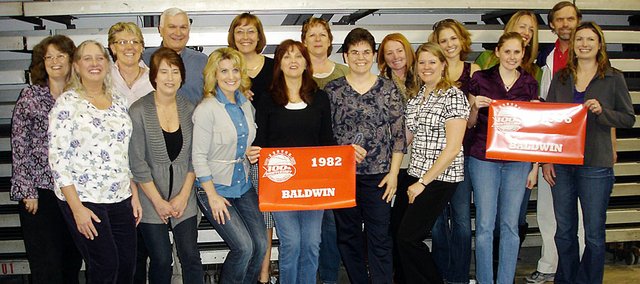 Ted Zuzzio had a once-in-a-lifetime weekend full of memories that will stay with him forever.
Last Thursday, the Baldwin High School attended the Baldwin Education Foundation Luncheon. Former BHS football coach Merle Venable was honored at the event. Zuzzio was an assistant coach during Venable's 19-year career at BHS.
On Friday evening, Zuzzio spent more time with Venable and former BHS football players. There was a reception at The Lodge for Venable, former players and their families and anyone that wanted to celebrate with him as the sports area around BHS will be named the Merle Venable Sports Complex.
"I had an amazing weekend," Zuzzio said. "I spent almost seven hours talking with the football guys. Then I had a wonderful day with the basketball ladies. Baldwin has a lot of good people and that makes it more and more special every year."
To top off the incredible start to Zuzzio's spring break, he traveled with his wife, Karen, to Salina for another trip down memory lane on Saturday. This one was his to celebrate — with his two state championship girls' basketball teams.
"Just being there at the Bicentennial Center, where they played and walk out on the court one more time was exciting for all," Zuzzio said. "It was very a special day."
Zuzzio spent most of Saturday with 15 former players from his 1982 and 1996 Class 4A state champion basketball teams. They were honored at this year's 4A state tournament at the Bicentennial Center in Salina.
"It was a really nice event," Zuzzio said. "It was a great bonding experience where we were able to share memories about that magical season. We talked about certain games. It was a really fun time and they shared a lot of memories on that team."
The 1982 BHS girls' team had the highest number of players return for the Kansas State High School Activities Association ceremony. Nine players and the team manager returned to the arena where they were crowned the first girls' state champions in BHS history.
"Our top nine players came back," Zuzzio said. "What a wonderful reunion. They came from as far as New Mexico and Nebraska. My gosh, there is a lot of love and good memories there.
"I haven't had the opportunity to see some of the players for a very long time," he said. "They was a lot of sparkle in the eyes when they were all together. It was pretty cool. It was a nice, wonderful thing. They were all pretty excited about being there and being together one more time."
Five players from the 1996 team and assistant coach Mike Curran made the trip to Salina Saturday. Many members of the team were back in Baldwin City five years ago for the 10-year anniversary of their state title.
"I can brag on our two teams," Zuzzio said. "I think they can still play. We saw other teams that won state championships and our girls are in great shape. I think they could still go. It was a wonderful event and I'm glad the state put it on. Like I said, it was an effort by all who came. It was a great day."
This year marked the 100th year of high school basketball in Kansas. In conjunction with the 100 years, KSHSAA invited all state championship teams over the past 100 years to attend.
Those teams attending were introduced prior to the start of this year's state championship games at their respective classification sites. Commemorative 100-year medallions and special KSHSAA commemorative books containing the history of the state basketball tournaments for both girls and boys were also available.
"We contacted all of them, but some of them weren't able to make it and that's understandable," Zuzzio said. "The ones that went had a great time. Just being back in the building where they had one shining moment was very special."
For Zuzzio, it was the first time he'd been in the Bicentennial Center since his son, Tony, played on the 2000 BHS boys' team that placed third at the state tournament. That team was the last Bulldogs' squad to play in the 4A state tournament. Despite a couple of minor changes, Zuzzio still enjoyed Salina arena.
"It's a great venue out there," Zuzzio said. "It's a great venue for basketball. The people are friendly. There is a lot of room. It was a great place to be on a very special day."