Former coach lauded for devotion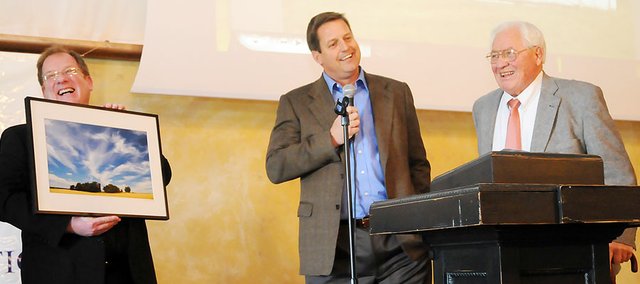 Stories about him are many and most of them bring laughter, yet those who tell those stories get serious when they reflect on how Merle Venable touched the lives of Baldwin High School students.
His impact on USD 348 students was recognized last week at the Baldwin Education Foundation Luncheon.
The legendary BHS former football coach of 19 years was one of two guests at the annual fundraiser. The other was one of his former BHS football players and current chief test pilot for Boeing, Mike Carriker.
But it was another former player and current USD 348 Board of Education member Scott Lauridsen who spoke the most during the special dedication to Venable.
"That's a tough act to follow," Lauridsen said after taking the podium after Carriker. "The last time I saw Mike Carriker, he was a lot bigger than I remember. I was 12, and he was a childhood idol and still is as a private pilot. He gets to do things I wish I could do. So it's great to see him.
"We're here today to recognize an individual. Last fall, the board of education passed a resolution designating areas around the high school that are used for athletics as the Merle Venable Sports Complex. We really appreciate the willingness of the board to recognize the impact that Merle had for the district and the community."
The school board unanimously approved in August the naming of the Merle Venable Sports Complex.
"I've had it written down," Venable said at the luncheon. "I can think of no greater prize of being honored for courageous young men at Baldwin High School for 19 years. It was a great pleasure. Thank you very much."
Several of Venable's former players and members of his family attended the luncheon. One of those was John Hitchcock, who was the quarterback on the 1968 Bulldogs' team that went undefeated, but didn't win a state title in the days before the state playoffs.
"He was tough, but he had humor," Hitchcock said. "He always had humor, even when he was chewing you out. You were a clown or a joker. I didn't know my name was John for a long time. It's those life lessons that stick with you for a long time."
Carriker also spoke briefly about his former coach.
"It was his interest outside of football that made him great," he said of Venable. "I always thought that was the greatest thing. One thing I've learned at Boeing is the best way to get the best results is to raise the water under every single boat. Every single boat floats higher if you raise the water. Merle did that. He raised everybody's level up and made a better team."
Lauridsen provided most of the memories about Venable. He began his dedication with a quick slide show of music and photos from Venable's coaching era.
He continued by saying many people who weren't in Baldwin City when Venable coached, 1966-1984, have asked him why honor Venable.
"It's a fair question," Lauridsen said. As you get to know him, you figure it out. To me, it really comes down to what he did and how he did it."
He continued by explaining what Venable did at BHS.
"By any typical definition of a good coach, it's usually how well did his teams perform," Lauridsen said. "That's the standard definition. I think he excelled in that area. He coached two undefeated teams and won a state title in 1981 and had several near misses in between.
"With that success and his colorful coaching style, he brought a lot of positive visibility to Baldwin High School. We were known across the state. Sportswriters everywhere loved to cover him."
Lauridsen further explained how his former coach was able to have success and why he deserved to have BHS sports complex named in his honor.
"We've seen coaches who have the personnel, anyone can coach them and win," Lauridsen said. "So how did he get 15-18 year olds to achieve well above their natural ability level? Anybody who played for him knows that's what happened. He was so plugged into the local rumor mill, that somehow he had heard that an opposing player, coach or mayor of that town had somehow disrespected us in public. It was amazing that happened every week. He was so good at it; we bought it every week.
"We were forced to watch the portable record player be drug out while we were sitting in the gym waiting to go to the stadium. We were trying to concentrate on our upcoming game,and we were forced to listen to Tex Ritter sing the theme song from the 1953 movie 'High Noon.' He could relate that to what we had ahead of us."
A clip of the song was played for the audience and laughter broke out at Stony Point Hall. The Venable dedication wrapped up with one final statement about his former coach.
"It's clear to me, that his success and impact he had on the district were fundamentally due to one core trait — he cared about the kids," Lauridsen said. "Bottom line, that's it. It wasn't just when you were playing for him, but what you were doing the rest of your life. He wanted to know, and he tried to impact it. Also, the ones that needed more, he gave more to them. That hasn't changed to this day. He still cares."
Patty Irick, BEF president, also spoke some kind words about Venable to end the luncheon last week.
"I cannot express the profound impact Mr. Venable had on my husband and myself," she said. "You don't have to be a football player to be impacted by Mr. Venable. He touched the lives of so many and I can't think of anyone who deserves to be honored more than him."