Baldwin roots prepared pilot to take flight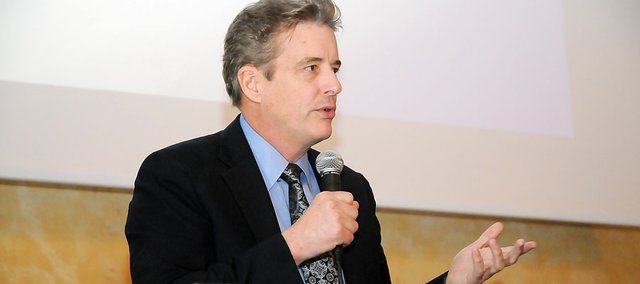 Mike Carriker is living his dream as a pilot, but he has never forgot his roots…right here in Baldwin City.
Carriker has flown all around the world as first a U.S. Navy and now as Boeing's chief test pilot. He helped Boeing make history by piloting the new 787 Dreamliner, first airliner built mostly of composite plastic.
Yet, he credits his hometown and its people for molding him into the man he's become.
"I've gotten to travel the world and see things," Carriker said Thursday at the Baldwin Education Foundation Luncheon. "It was the thrill of a lifetime to represent the company. It's a continuation of a passion. I get to travel the world and I am ever so proud to say that I come from Baldwin City, Kansas."
The 1973 Baldwin High School graduate enjoyed his return to his hometown from his current home in Seattle and thank the people who helped him during his youth.
"I want to thank the Baldwin Education Foundation for a personal opportunity, that opportunity I've waited for 38 years," he said during his keynote address Thursday. "I have the privilege of coming back to my hometown to say thank you. Thank you for all that you have done for me and my family."
Carriker's attendance, along with a special dedication to former BHS football coach Merle Venable, at the annual BEF event helped make it the largest fundraiser the luncheon's five-year history. There were 185 guests at the luncheon, which raised $5,200 for the education foundation.
"It was in large part due to them," BEF Executive Director Kathy Gerstner said. "I think there was a lot of interest in Mike and coach Venable. There were a number of players there to support him. It was incredible to have them at our luncheon.
"It was interesting how Mike said two days ago he used a math equation he learned in high school. That just shows why education is so important. It was heartwarming."
Although the BEF wasn't created until 30 years after Carriker graduated from Baldwin High, he understands its importance.
"You never know when that passion or inspiration is going to come and that's what's great about the Baldwin Education Foundation," Carriker said. "You never know when that little trigger is going to do something for someone to inspire them for the rest of their life. Maybe it's that one little program that is funded from the Baldwin Education Foundation."
During his keynote address, Carriker explained where he found his passion and inspiration for becoming a pilot. He said it started when his football coach (Venable) told him to check out a book from the high school library about the Battle of Midway.
It was the first time Carriker ever read anything about naval aviation. Ten years later, he was flying jets for the U.S. Navy.
"The only passion I had in college was that I loved airplanes," Carriker said. "I wanted to follow my passion for airplanes. Part of that passion was to be smarter and smarter about airplanes. I went to Wichita State and got a degree in aeronautical engineering, not because I was going to be a great engineer, it's because I loved to fly airplanes. The first place I learned to fly airplanes was Vinland Valley."
In 1990, Carriker began working for Boeing. On Dec. 15, 2009, he piloted the first flight of the 787 Dreamliner.
"I got to represent about 150,00 people's work over a decade on one cold, rainy day in Seattle," he said. "It was a thrill beyond belief."
Carriker and co-pilot Randy Neville's maiden flight in the Dreamliner was delayed a few hours because of bad weather. Once the weather was OK to fly, they were set to take off.
There was 25,000 people on the side of the runway and more than 3 million people watching online on all seven continents. Helicopters flew around the runway, filming for news stations.
"I pushed the throttle all the way and rolled down the runway," Carriker said. "We had made all of these calculations. We looked at performance, take offs and everything else like that. Right on the money, I pulled back, five seconds later, this airplane was airborne and history was made at the Boeing company. We took off and the weather wasn't very good. It was a little overcast. We had to take off to the north, because it wasn't over populated territory. We took off right over my house. So Karen (Carriker's wife) said, 'if you wreck, please don't run into the house.'
"We went out over the water and one of the big things in an airplane is you're trying to figure out if the air-speed system and the altimeter work OK, That 233 came up next to me and he was flying at 172 knots and I was at 170 knots, but his plane is about 50 years old. Then we made a left turn directly toward the Pacific Ocean. We took that airplane into the bad weather two-and-a-half minutes after take off, because of the teamwork and effort that went into the project."
USD 348 Superintendent Paul Dorathy presented Carriker with two gifts after his speech. Dorathy gave him a Baldwin Bulldogs long sleeve T-shirt and his old 100-meter dash track record plaque. His 100 dash record was broken, but he still holds the 400-meter dash record at BHS.
The BHS Real World Design Challenge team was at the luncheon last week. The BHS students' project works with the Dreamliner this year. They talked with Carriker after the luncheon. He also showed them a presentation about the airplane and all of the tests that were required. He finished his speech by giving the audience encouragement for hard times.
"There will be very hard days in the future," Carriker said. "There will long days and great days. There will be days where something really fantastic happens. Just think, in the near future, the Boeing 787 will be in service. Someday, maybe at the Kansas City airport, you walk up and get on that Boeing 787.
"You'll look around and go, 'whoa, there was a kid from Baldwin City, Kansas, that helped design this airplane. He took the first flight in this airplane. Just a kid from Baldwin City. What do you think the kids from Baldwin who are here today, can do tomorrow?"
Side note
This year's event had 11 table sponsors. They were Baldwin State Bank, Baker University, ACG Flat Glass of North America, Baldwin City Recreation Commission, Baldwin City Lions Club, DLR Group, Friends of Merle Venable, Jim and Patty Irick, Kansas State Bank, Lifetouch Photography and Mid-America Bank.
"This year, we had two sponsorships come in at the highest level, the Bulldog level," Gerstner said. "The first one of those is Baldwin State Bank, whom we are lucky to have as a community partner. The second sponsor is Baker University, who is also a very generous community partner."