Three-peat for
BHS

culinary management team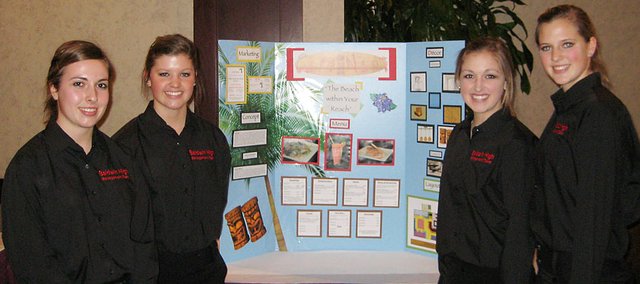 The Baldwin High School culinary management team continued the school's streak by winning the state culinary management competition for the third-straight time March 1-2 in Wichita.
The team was made up of students from the Baldwin High Culinary I class. The four selected to the group were juniors Abi Hartzell, Hayley Schwartz, Alexis Finucane and Paris Nottingham.
The group began the project in November and created a layout, decoration, floor plan, menu and marketing strategy for Café Nani, the team's Hawaiian-themed restaurant.
"We've kind of just been working whenever we can because we're all in sports, so we had to work around that and manage time that way," Schwartz said.
The team was given a demographic the restaurant would be located in, which was in a diverse area of a large city.
"We decided we'd do something quick and healthy and something that can make them relax, since they're in such a big city," Schwartz said. "So, we just kind of combined a beach, because that reminded us of relaxation."
As part of the competition, the group needed to create nine menu items, and then actually cook and take pictures of three of the items for the judges. One of the items created was a smoothie, because it is what Schwartz said Café Nani was famous for. The restaurant was initially conceived of as a quick coffee shop, but it evolved into a healthy restaurant featuring smoothies. The group also made a grilled baja chicken panini and a salad.
"It was a lot to do in a little time, and we had to get everything right," Hartzell said. "It was a lot of detailed-oriented things."
The team prepared Café Nani, a detailed book filled with all the restaurant's information and the slogan, "The beach within your reach," for a group of judges who critiqued the restaurant on layout, concept and marketing.
The judges awarded the Baldwin team's concept the best in the state and the win allows the team to move on to the national competition during the last weekend in April in Overland Park.
"It was really, really great that we put all our work into it and it paid off," Hartzell said.
In the month leading up to the national competition, the team will make changes to its book and presentation to make sure it is as good as possible.
Schwartz believes winning the national competition would be great for showing the success of Baldwin High School.
"I think it'd be really good for Baldwin, because we already have our Real World Design team going to the national contest and winning that … so just going in and winning management for culinary kind of just adds to that success for Baldwin High School," Schwartz said.