School board hears
BHS

girls soccer program proposal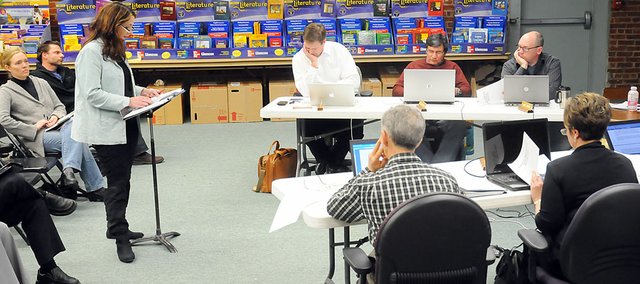 Baldwin High School might have one more athletic team during the 2012 spring season.
In fall 2005, BHS played its first soccer game. It was a co-ed team and has been for six seasons. Next year, that may change.
Mary Lisa Joslyn, wife of BHS soccer coach Mark Joslyn, made a pitch for girls soccer Monday to the USD 348 Board of Education. Joslyn presented the idea of creating a BHS girls soccer program next year.
"So why should we offer high school girls soccer at USD 348?" Joslyn asked the school board. "As I've mentioned, we have the opportunity to compete. Our female students-athletes deserve a chance to compete with and against their peers. We also have the numbers, I've shown that."
During her presentation, Joslyn explained the reasons for adding the program and how it will be fully funded for the first three years. With the interest in a program, starting girls soccer was an issue of gender equality, she said.
Joslyn surveyed girls at BHS and Baldwin Junior High School last week. A total of 47 BHS girls, not including the senior class, were interested in playing on a girls soccer program next year. There were 34 BJHS girls interested.
"We have 54 students who have shown an interest in girls spring soccer next year," Joslyn said. "Let's just say that next spring, half of this group decides the really want to play. That's 27 girls and that would be more than enough for a full team. It also clearly demonstrates there is an interest in girls soccer. There's even a continuing interest if you look at the sixth-grade numbers."
Parents paid for the soccer program when it started in 2005, and the girls program would be no different.
Joslyn said the cost of the coach would be about $2,790, transportation about $936 and officials about $2,640. She explained USD 348 wouldn't pay any of the total.
"Clearly, in today's world, we must demonstrate a fiscal responsibility, which you are all very familiar with," Joslyn said. "Currently through donations, we have the first-year costs covered. We have a group of parents committed to fundraising enough money to cover the sliding scale as outlined in the district policy.
"We have already raised $3,500 for this. We have $2,000 per year times three years pledged from local businesses. We have a Maple Leaf booth and a goal of making $2,000. I also have an anonymous donor who will donate up to $2,000 to cover our costs. I've also had $350 show up at my front door this week."
Her final reason for advocating the program was equal opportunity for girls to play soccer. Other schools that have a girls soccer program, play their games in the spring, while the boys play in the fall.
"It's about more than developing a program," Joslyn said. "It's about the opportunity to compete. The fall sport is not co-ed. According to the KSHSAA, fall soccer is called boys soccer, not co-ed soccer. Furthermore, this is not offering an opportunity for the female student athletes."
Joslyn added that 4,158 boys played soccer in the fall in Kansas. Of the 101 girls those same teams, 12 were from Baldwin and more than a dozen were from Eudora.
The Cardinals are in a similar situation as Baldwin as they are considering adding a girls soccer program. The Frontier League schools with girls soccer teams are De Soto, Ottawa and Spring Hill. Eudora and Louisburg have toyed with the idea. Other area schools with programs include Tonganoxie, Gardner, Mill Valley, Basehor-Linwood, Lansing and Topeka-Hayden.
Joslyn had support at the school board meeting. More than half of a dozen BHS girls'soccer players and nearly a dozen parents attended the meeting to show support for the program.
There was no discussion by the school board Monday night, but the topic is expected to be on the April 11 agenda.