Ballard reflects on first year as Baker coach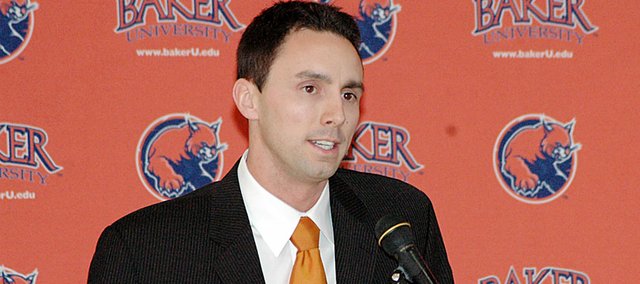 If the line of media personnel standing in the back of Brett Ballard's introductory press conference in March 2010 gave any indication, expectations were high.
Ballard, Baker University's men's basketball coach, had not coached a game in his career, and was taking over a team that won three games in the Heart of America Athletic Conference. A year later, Ballard's Wildcats won eight HAAC games and has first-year coach thinks his team met or exceeded his expectations.
"I think, as a basketball team, certainly we've gotten better and I've been happy with our progress, and I've been excited about where we started to where we've gotten to," Ballard said, "but along the way, there were a few bumps, which are to be expected."
As Ballard made the adjustment from sitting on the sidelines in Allen Fieldhouse to roaming the sidelines of Collins Center, the university and city have also exceeded his expectations.
"I've been really, really pleased with everything in the surroundings as far as the support we get from our personnel here, the faculty here and, just in general, the town," Ballard said.
Not only did the Wildcats improve on the number of HAAC wins this year, but also nearly made the HAAC Tournament, losing a tiebreaker among Missouri Valley College and Avila University for the final two spots. Baker also defeated rival MidAmerica Nazarene University for the first time since 1999.
"We were the foundation for where Baker basketball is headed. I think we did that this year," senior Jaris Wommack said. "I mean, we didn't quite end up where we wanted to go this year, but I think it's a good step in the right direction and where we're going to go in the future."
The Wildcats may have finished 8-12 in the conference and 12-18 overall, but were close to turning a few of those losses into wins. Five of Baker's losses this season came by five points or less.
"I think what Brett has been able to do is really get the guys on our men's team to buy into his system and to believe in it and know that it will give them an opportunity to win in every game, no matter who we're playing," Baker Athletic Director Theresa Yetmar said.
The first season under Ballard has concluded, and the program is now looking to the future. Ballard has an advantage this offseason of having a full recruiting period, as well as a better understanding if the talent needed to be successful at the NAIA level.
Yetmar said Ballard being able to see and coach in the conference gives him a better barometer for the type of players to recruit.
"It's one thing to watch it and one thing to hear about it, but it's totally another thing to live it every day," Yetmar said.
Not only was this season a learning experience for the players he coached, but also it was a learning experience for Ballard. He can now look back and analyze certain aspects of the job, including recruiting, time management and strategies and see what can be improved on for next year.
"We're not going to change completely who we are, but I definitely think there are things I can look at, for sure, and get better at and approve on," Ballard said.
As Ballard looks to the future, he expects his team to be in the hunt in the HAAC every year.
"I didn't come to Baker to finish fifth in the HAAC, I didn't," Ballard said. "To me, that's fine and I'm excited about where we're headed, but not at all satisfied. The one thing to me is I'm very hungry and very motivated to keep getting better, as a coach and as our team, as a program and building everything around here."