U.S.

Highway 59 paving to begin this summer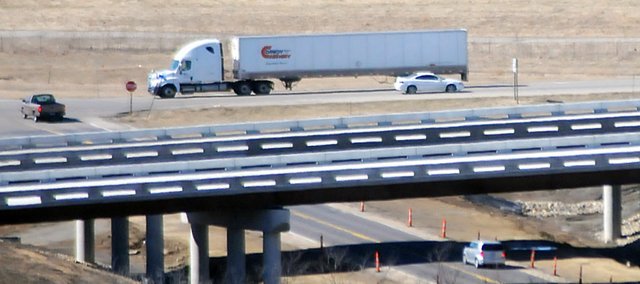 Southern Douglas County should expect to see the northern portion of the new U.S. Highway 59 take shape this summer.
Although the extensive project to build a new four-lane highway from Interstate 35 to Lawrence won't be completed until 2012, the Douglas County portion will see pavement laid this year. Crews will be working on smaller projects during the next several months, but paving the driving lanes is the big project slated for 2011.
"We still have some earthwork to do," said Jason Van Nice, Kansas Department of Transportation project manager. "Most of that is along the northern portion of it, like north of Zarco road. There will be some pretty significant grading work there.
"The main thing we are going to do different this year is we are going to start placing pavement for the new highway. We will be starting that at the south end at the county line."
KDOT is expecting to begin paving the Douglas County portion of the highway in mid to late summer. Van Nice expects crews will pave the new highway from the county line to North 650 Road, also known as Zarco Road because of the former gas station that was a landmark at the intersection.
In March 2010, the southern portion of the expanded highway opened. That stretch of road runs from Interstate 35 near Ottawa in Franklin County to the Douglas County line. The stretch of new highway is four lane and has a 70 mph speed limit.
Despite January and February snowstorms, the multi-year project hasn't had any time-consuming setbacks.
"I'd say we are on schedule," Van Nice said. "So far this year, it hasn't been a problem. The weather overall hasn't been a huge issue for us. We've been able to absorb any weather situations into our schedule."
One problem that kept occurring last year was re-routing traffic on U.S. 59 and U.S. Highway 56 near the Baldwin Junction while the overpass was built for the new highway. Traffic on Highway 59 was also re-routed several times near North 650 Road for the overpass at that intersection.
"Last year, in particular, it was quite a challenge to keep up with the different phasing," Van Nice said. "We did a lot of temporary pavement to move people around and build the permanent road structures. It was quite an adventure. But we are through most of that. Most of the challenge was at the Baldwin Junction and trying to keep up with the traffic."
KDOT also built temporary sections of road for drivers using the current Highway 59. One of those is between North 500 and 600 Roads where the speed limit drops to 45 mph. Once the new highway is finished, that stretch of road won't exist.
"The pavement that is there now is temporary," Van Nice said. "We will tear that out this spring. That will basically be where the new highway is going. There is a new asphalt road up top that follows the new highway. It will stay higher and won't have the valley. Plus it will also go further west to go around the overpass that we built."
KDOT will have to do similar projects when it connects the new four-lane highway with the existing four-lane highway south of Lawrence.
"That's another year and a half or so down the road," Van Nice said. "That will be another challenge where we have to move traffic back and forth. We will be making sure everything happens safely and it all gets tied back in the way it's supposed to."
In all, the new U.S. 59 will be expected to cost $240 million and provide safer and more efficient travel between Lawrence and Ottawa.