Trio of first-time qualifiers win state matches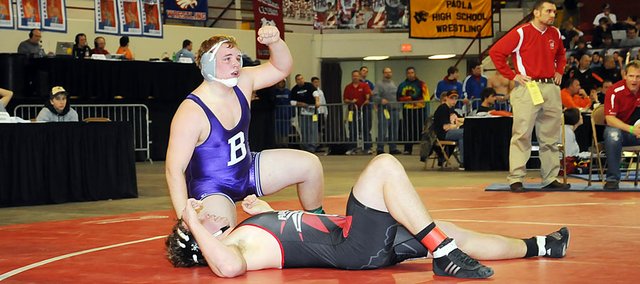 SALINA — Without its top competitor, this year wasn't Baldwin High School's best here at the Class 4A state wrestling tournament.
However, it wasn't all lost as three first-time wrestlers won their first-ever state matches. A fourth Bulldog placed in the top six to lead the team to a 26th-place finish. Baldwin scored 23 team points during the two-day event.
"We all wrestled hard, but we did lose a lot of close matches," coach Kit Harris said. "That happens every year to every team at state. Everybody stepped up and competed well all weekend."
BHS sophomore Bryce Shoemaker was unable to compete at the regional tournament because of an injury. The defending state champion couldn't qualify for state, and the Bulldogs dearly missed his points and placing.
Leading the way this year was junior Andrew Morgan. He finished fifth in the 125-pound bracket with a 3-2 record. It was his first year to finish as a state medalist after qualifying his freshman and sophomore seasons.
A trio of first-time state qualifiers won matches at the state tournament. Freshman Tucker Clark (112 pounds) lost his first match to Colby's Dustin Reed, who went on to win the 112-poung state title. Clark won his second match by injury default. On Saturday, he beat Justus Seaton of Bonner Springs 2-1.
"Tucker wrestled hard," Harris said. "He's just a freshman and he had a lot of wins this season. He was one match from placing at state. That's a great freshman season. He was one of the deepest brackets in the state."
Clark lost his final match to Prairie View's Kaleb Konitzer 5-2, ending his tournament 2-2. He finished the season 31-14.
"I'm a little disappointed, but I wrestled well," Clark said. "This helps sets my goals for the next three years, which are qualifying and placing. I'm not going to come back empty handed again."
Junior Colton Bonner was the only Bulldog besides Morgan to win a first-round match. Bonner beat Wamego's Taylor Shaffer late in the match. Shaffer entered the tournament with a 35-2 record.
"It started off really well," Bonner said. "The matches, of course, get harder. The season didn't end like I wanted it to. It was pretty exciting to win my first match of my first state tournament. It felt pretty good."
Bonner's next match was against Colten Lissolo of Hugoton. Lissolo won by fall and went on to win the 215-pound state championship. In the consolation bracket, Bonner lost to Eudora's Boomer Mays 14-5.
Mays was ranked as one of the state's best at 215, but lost his first match. He was called for an illegal slam and his opponent was injured and unable to continue wrestling. Mays easily won his consolation matches en route to finishing third.
"Bonner had an awesome win in the first round," Harris said. "Then his bracket got messed up because of an illegal slam. Then he got paired up with Boomer on the backside. He wrestled hard in that match."
Bonner was disappointed to face Mays in the consolation bracket, but took the loss graciously. He ended his season 35-14.
"You can't blame the bracket and how everything worked out," Bonner said. "It's all about you and how you wrestle. I wrestled tough in the match, but I think about what I could have done differently."
The other Bulldog to win a match was senior Jesse Austin (285). He lost his opening match 7-4 to Fort Scott's Drew Bryant, who finished sixth at 285. Austin won his next match by defeated Hiawatha's John Denner 4-2. Austin lost to Denner earlier in the season at the Rossville Invitational.
"I was one win away from state the past two years, so getting here was nice," Austin said. "To win a match here was really important to me."
Austin lost his first match Saturday. Clay Center's Johnny Reardon beat him 5-2 to end his BHS career. He was 30-8 as a senior.
"Jesse had a tough bracket," Harris said. "Against the bigger heavyweights, Jesse matches up well against and might be one of the best, but not against the lighter guys who can score on him. Unfortunately, he got paired up with two of the lighter heavyweights in the bracket."
Senior Greg Schiffelbein (140) and junior Cody Sellers (130) qualified for state, but lost both of their matches.
"Greg ended his career as a two-time state qualifier," Harris said. "Cody is a great wrestler, but he's got some areas he needs to work on. They both had really good seasons."
Clark, Bonner, Morgan, Sellers and Shoemaker will return next season for the Bulldogs, who look to have a better state tournament in 2012.
"We will back here next year with a good team," Clark said. "Hopefully we will have more placers next year."