Third time's a charm for Baldwin High's Morgan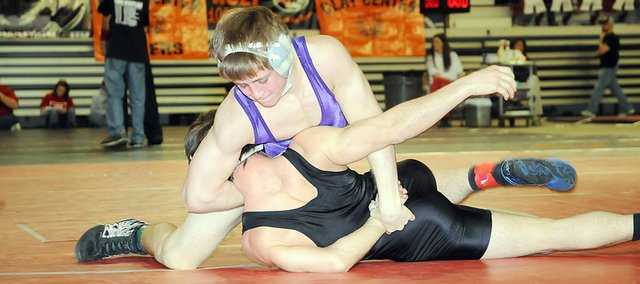 SALINA — Andrew Morgan has improved from a below .500 freshman to a fifth-place finisher in two years as a Baldwin High School wrestler.
His third time at the Class 4A state tournament here was his best.
Morgan ended his junior campaign with his first-ever Class 4A state medal, but he wanted a better finish.
"It's a good finish," Morgan said. "I fell short of my goal. I wanted to be third or better, but I'll take fifth this year. Next year, hopefully I can come back and win it."
The competitive edge and drive to be the best is what BHS coach Kit Harris loves about his 125-pound state medalist. Morgan was the only Bulldog to be a state-placer this year.
"He wrestled well all weekend," Harris said. "We liked his chances of doing well, because you can bank on getting a really, good competitive performance out of Andrew. He's very tough-minded and hard-working. He's gotten better and better every week of every season. He is very deserving of this, because he has put in his time."
Morgan's final match came shortly after his second loss of the tournament. He lost 9-3 to Robbie Hines of Ulysses in the consolation semifinals.
"I was mad about losing the previous match," Morgan said. "That made me angry for my final match."
The BHS junior took out his aggression on Parsons' Dalton Murdock, who he had already beaten by fall in the second round.
"I don't know how that happened," Morgan said of wrestling the same competitor twice at state. "I was really mad the second time, so I went out there ready to pound on him. That's what I wanted to do to him."
Morgan did pound Murdock. He won 9-1 to earn his fifth-place medal.
"He was ready to go," Harris said. "He didn't want to wrestle for fifth and sixth at all. That's how competitive he is. The kid who beat him in previous match is a three-time placer and this was Andrew's first time in the medal round, but he doesn't care. He wants to beat anybody he steps on the mat with. He's very competitive."
Although he wrestled well while angry from a previous loss, Morgan admitted after his last match that it can backfire.
"Sometimes you can wrestle better, but sometimes you can get out of position and that can mess you up," Morgan said. "It worked out just fine for me in the last match."
On the first day of the state tournament, Morgan defeated Circle's Yancey Edson by fall in the second period to start the day. He beat Murdock in the second round before losing to Prairie View's Bo Newport 7-3 in the semifinals.
"Yesterday, I thought I wrestled great," Morgan said Saturday. "I was fine with all of my matches. I was a little mad after my semifinals, but that's a good kid I lost to."
Morgan finished his junior season with a record of 38-10. It's his highest win total for a season at Baldwin. As a sophomore, Morgan went 1-2 at 112 pounds at state and finished 24-15 on the season. He qualified as a freshman, despite a losing record. At state, he went 1-2 to finish the season 21-24.
"Last year, I wasn't as good technically as I am this year," Morgan said. "I worked hard in the offseason each year, especially this past year and that helped a lot. We went to Baker last spring, summer and fall. Coach (Jimmy) May really helped us out by letting us in and he taught us a lot. We learned a lot from him over the offseason."
With one state medal in his possession, Morgan is hoping to add another as a senior. His coach also has high expectations for Morgan.
"He won a state medal, but he wasn't happy with that," Harris said. "He wanted a higher state finish. I think we can expect big things from him next year."