Second half offense leads
BHS

girls to sub-state win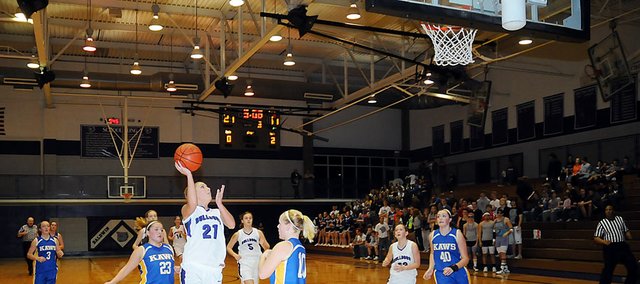 Once shots began falling in the second half, the Baldwin High School girls' basketball team rolled to its first-round sub-state win at home Tuesday night.
The Bulldogs put Perry-Lecompton away by outscoring the Kaws 35-7 in the second half. The Bulldogs beat the Kaws 50-22 to advance to Friday's Class 4A sub-state semifinal game.
"Perry came out knowing it could be their last game, too," senior Myranda Behrens said. "They were playing their best, and we weren't playing out best yet. We knew that we were the better team, and we picked it up second half and got the win."
BHS coach Bob Martin credited defense for the second-half point disparity.
"I think it was defense that helped turn things around in the second half," he said. "We locked things down a bit and that got our offense going. We got some turnovers and breaks off of it. Then they weren't scoring and things become easier as we made a few outside shots."
Sophomore Monica Howard helped the Bulldogs begin to pull away in the third quarter. Howard sank four free throws on consecutive possessions to give BHS a 21-17 advantage.
Following Howard's foul shots, the Bulldogs scored 12 unanswered points. Five Bulldogs scored during the 12-0 run.
"Basically, I told them to just stay with it," Martin said of his halftime speech when the game was tied 15-15. "If we just stayed with it, we will be OK."
Baldwin sank five three-pointers in the second half. Myranda Behrens hit two while senior Allison Howard, sophomore Kailyn Smith and freshman Katie Jones made one each. Jones' shot was a35-foot launch as time expired at the end of the quarter. Her shot banked off of the backboard and through the rim, causing the BHS fans to erupt in cheers and applause.
"We were trying to make sure we made the easy shots in the second half," Behrens said. "We knew we wouldn't get every call we wanted so we had to push harder than we did in the first half. We did just that and got a big lead."
Baldwin held the Kaws to three made free throws and no field goals in the fourth quarter. Sophomores Callie Enick and Jessie Katzer came off the bench late to score during the final minutes.
"It's nice that we were able to get all of our girls some playing time tonight," Behrens said. "It's nice for our girls who mostly play JV to get some minutes tonight."
During the first half, Baldwin struggled to score, as the two teams were tied 15-15 at halftime. Baldwin made only six field goals during the first two quarters.
BHS scored a layup five seconds after the tipoff. Then Baldwin went 5:10 before scoring again. Sophomore Katie Kehl ended the drought with a layup. Kehl's basket sparked an 8-0 run to end the first quarter.
Baldwin trailed 15-12 with 2:44 left in the half. Howard and senior Ramie Burkhart combined to make three free throws to tie the game before halftime.
"It was a little bit like the boys' game last night," Martin said. "Sometimes you come out a bit timid, and Perry knew that there might not be another game for them. They played well in the first half, and I didn't think we played poorly. I thought we played defensively and I thought we had a lot of good shots, but didn't make many of them."
The Bulldogs' coach was happy with his team's effort and rebounding Tuesday.
"We rebounded pretty well," he said. "We got a bunch of offensive boards tonight. I thought it was a physical game inside and both teams were scrappy. We needed to play physical and tough inside."
Tuesday was the final home game for the Bulldogs. It was the final time Behrens, Burkhart and Howard played a game in the home gym.
"It was kind of bittersweet," Behrens said. "I thought last week was going to be our last home game. I was really sad last week, but I was excited to play at home one more time."
BHS will play Topeka-Hayden at 6 p.m. Friday at Spring Hill.
"We will have to play better Friday," Martin said. "We will have to play for 32 minutes. It will be a challenge, but I think we are ready."