KU

's Gill highlights annual Chamber of Commerce dinner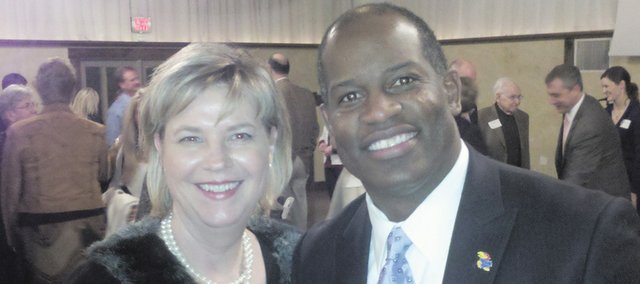 Turner Gill, University of Kansas' head football coach, was among the roughly 125 people in attendance at the annual awards dinner hosted by Baldwin City Chamber of Commerce Saturday at Stony Point Hall.
While people lined up after the award ceremony to speak to, and take pictures with, the KU coach, who gave a speech at the dinner, it was local businesses and individuals being honored that night.
"We've got so many great people in this community and it's really hard to recognize everybody," Chamber of Commerce President Jay Randels said, "but you know, there are a few people who have stood out in the last year and the ability for all these people to come out and really honor the nominees and the winners is tremendous."
The first award of the night was the Horizon Award, which went to a business that has been in operation for less than 18 months. Midnight Farm won the award, beating The Melange Apron, Pink Lady Consignment Clothing Boutique and Wheat State Pizza.
Baldwin State Bank President Ivan Huntoon won the Community Service Award, with other nominees being Steve Friend, Jim and Diane Niehoff and Gary Sanden.
"The recognition isn't important, but it does put on pressure to keep on working at that level and it's just nice to see like all these people that do make a difference in the community," Huntoon said.
Randels said Vintage Park was named Business of the Year for demonstrating excellence and service to the community. While a Partnership Award is not presented every year, Crystal Williams was presented the award, for her volunteer work, as the final award of the evening.

"The one thing you'll find in the business and the individuals in the Baldwin City community is that they're committed 100 percent every day," Randels said. "That's what makes this community such a great community to live in and be a part of, whether it is as an individual or as a business."
Gill spoke about hard work during his speech, and was impressed with the hard work of the Baldwin City community.
"Hard working, I think that's the thing to describe this community," Gill said. "Hard working and they work together."
Huntoon said business owners in Baldwin City set the bar high and want to provide great services for their friends and neighbors.
"I feel fortunate to be a part of this community," Huntoon said. "And so it's very easy to give to this community and I truly do believe that if you looked around this room (Saturday night) that there were probably around (125) people that could be standing up there instead of me."