BHS

boys fall to Thunder in sub-state opener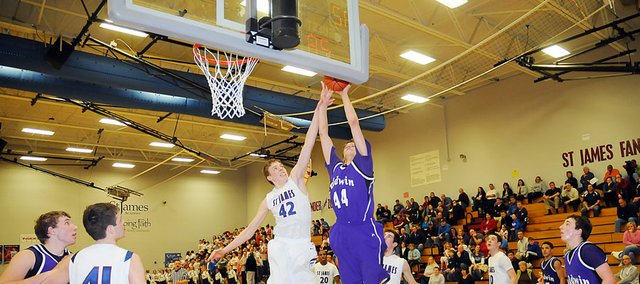 LENEXA — Despite a hard-fought game against the favored home team, the Baldwin High School boys' basketball season ended here Monday night in the Class 4A sub-state.
After pulling within four points following a Caleb Gaylord three-pointer, the Bulldogs were unable to score again during the final minute. The No. 6-seeded Bulldogs fell to No. 3 seed Saint James Academy 54-43 to end the season 7-14.
"We were definitely the underdogs coming into tonight and our kids embraced it," coach Eric Toot said. "We played about as tough as a team could play tonight. I'm proud of our kids tonight but sad to see our season end, especially for our seniors."
Monday's loss was the final high school game for seniors Kyle Pattrick and Justin Vander Tuig, who combined to score 23 points.
"They've been the best pair of seniors you could ever ask for," Toot said. "They've been through two tough years and they never quit on us. They were great leaders and great teammates. They were the key to our team hanging in there when things weren't good.
"I'm going to miss them so much, not just as players but as people. They are just two great kids. I wish all kids could be like them, because it would make the world such a better place. I'm going to miss them, deeply."
Baldwin trailed by eight points early in the fourth quarter after St. James made two free throws. Sophomore Dayton Valentine scored a layup before Vander Tuig made a basket. Freshman Cornell Brown recorded an assist on both plays. Brown made one of two foul shots, cutting the lead to three points.
The Thunder responded with four points. Then sophomore Gaylord hit his three-pointer to slash the lead to four points. The Thunder made seven of their final eight free throws.
"They did what good teams do," Toot said. "When you get up late in the game, you finish it off by making free throws. Caleb hit a really big shot in a tough situation. We still had a chance there, but it was to the point where we had to take chances and foul. They made their free throws, and that's what good teams do."
Baldwin trailed by 11 early in the second quarter, but finished the half on a 10-2 run. Vander Tuig and Pattrick combined to score nine of the 10 points to bring Baldwin back within one possession of the Thunder. They also scored the next three field goals for BHS in the third quarter.
St. James led 8-2 less than three minutes into the contest and built it to eight points later in the quarter. Baldwin cut the lead to five points with seconds left, before St. James' Top Huppe sank a half-court shot as time expired in the quarter. That was Huppe's only points of the game.
"We've been there before where we've fell behind early and fought back," Toot said. "Before the game and during timeouts we talked about just hanging in there and we did. We really dug our heels in on defense. We went through a big drought in the second quarter where we only scored one point, but they only scored two. So we were right there going into half. We kept cutting their lead down. We did a lot of good things tonight."
Although the Bulldogs' season ended with a tough loss at the sub-state tournament, their coach was pleased with the improvement from a year ago.
"The difference between this year and last year is last year we just got throttled in a lot of games," Toot said. "We only won one more game this year, but we made some big steps. We were in a lot of games this year with some young kids and it's only going to make them better.
"If you look back at our season, we hung tough with some of the better teams around," he said. "I think our young kids will learn from that, get over the hump and hopefully get in the gym and shoot the ball a little bit. That will make a big difference in the upcoming years."