Offense awakens in second half as
BHS

girls roll over Kaws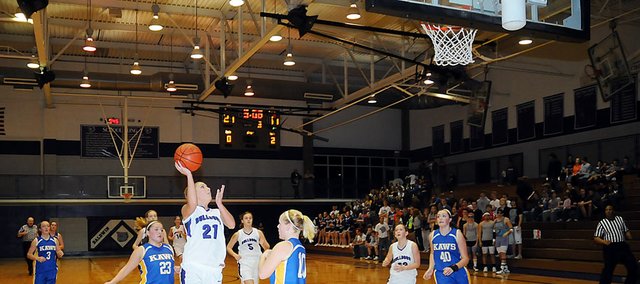 Once shots began falling in the second half, the Baldwin High girls' basketball team rolled to its first-round sub-state win at home Tuesday night.
The Bulldogs outscored Perry-Lecompton 35-7 in the second half. They beat the Kaws 50-22 to advance to Friday's Class 4A sub-state semifinal game.
"I think it was defense that helped turn things around in the second half," coach Bob Martin said. "We locked things down a bit and that got our offense going. We got some turnovers and breaks off of it. Then they weren't scoring and things become easier as we made a few outside shots."
Baldwin sank five three-pointers in the second half. Myranda Behrens hit two while three other Bulldogs made one each.
During the first half, Baldwin struggled to score, as the two teams were tied 15-15 at halftime. Baldwin made only six field goals during the first two quarters.
BHS will play Topeka-Hayden at 6 p.m. Friday at Spring Hill.
Scoring summary
B — 10 5 23 12 – 50
PL — 6 9 4 3 – 22
Baldwin — Allison Howard, 5; Ramie Burkhart, 11; Myranda Behrens, 10; Katie Jones, 3; Kailyn Smith, 9; Callie Enick, 2; Jessie Katzer, 1; Katie Kehl, 5; Monica Howard, 4.
Perry-Lecompton — Abbey Bays, 6; Natasha Carver, 5; Taylor Akagi, 1; Madison Hess, 8; Taylor Fuller, 2.