Youthful Bulldogs improve basketball skills during June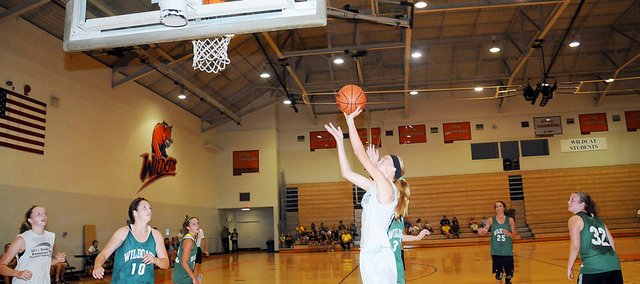 With the Baldwin High School girls basketball summer activities winding down, coach Bob Martin took the time to reflect on the Bulldogs' busy June.
The past month has been filled with a team camp, weekly games at Baker University and a recent team camp at Kansas University. Martin's Bulldogs, which are one of the youngest teams in the area and state, have enjoyed success all summer.
"We're staying busy," Martin said. "June is a busy month for all of the girls, with volleyball, softball and other things. They are all over the place and we're trying not to wear them down."
There are no seniors on the Bulldogs' roster. No junior girls played during the 2010-2011 season and it appears none will play during the upcoming year. However, the younger girls are stepping up and becoming leaders.
The Bulldogs lost three seniors who played significant minutes during the past four seasons. Three sophomores and one freshman played many minutes this year and they are the ones who have tried to carry the team during the summer.
"It's been really good," Martin said. "Our younger girls are playing really well. Our older girls have played well the last couple of weeks, so we're accomplishing what we want to accomplish this summer. We are getting a chance to work on some things and watch the girls play. It's been pretty positive."
A handful of other BHS sophomores and juniors have also received heavy amounts of playing time during the Baker University league games. The Baker League is an annual tradition for the Bulldogs.
They've been playing Monday nights for the majority of the month. Baldwin competes against other area schools in pick-up games, where coaches are on the bench, but not as vocal as they are during the regular season.
BHS results are unknown, but the Bulldogs' coach is pretty sure they've won most of the games this summer.
"You don't worry about winning or losing in summer league," Martin said. "But we've been successful, which always makes it fun. The girls go out there and play to win. It doesn't go on our record or anything, but it's fun to win. The most important thing is they're playing pretty well. They've been developing some chemistry and that will be important once the season starts."
Baldwin's final Baker League night will be July 11, after it takes off Independence Day. Monday nights aren't the only time the Bulldogs have been playing basketball. During the past weekend, they traveled to Lawrence for a team camp.
While at KU, the Bulldogs went 2-2 in pick-up games. Similar to the Baker League, the record isn't as important to the coach as playing well during the games.
"We hoped to have some success, and we did," Martin said. "We played a couple pretty good teams. We played a lot of the younger girls there and that was good experience for them. It gave them a chance to play at the varsity-type level and find out where the need to improve and what they need to work on to become better. It gave us coaches an idea of what they can do in that situation, so it was pretty positive."
The beginning of June was spent in the BHS gym at the annual team camp. About 20 girls attended the week-long camp, which focused on fundamentals, but Martin added in some offensive schemes to prepare for the Baker League.
"We practiced fundamentals, of course," Martin said. "We tried several different things. It was very fundamentally driven and we tried to bring ourselves together as a team to figure out how we play together, what our strengths are and what our weaknesses are as a team. This is beginning of that process."
It was during the team camp that Martin began to notice the improvement of his younger players, which included mostly freshman and sophomores.
"We have no seniors," he said. "Our juniors have done a good job of trying to step in as leaders. I'm really happy with our young kids. They listen well and they are very coachable. It's and education process, but it's going really good."
After the final Baker League game, Martin will give his players the rest of the summer off and away from the court. Many of them will be playing fall sports, which start in mid-August.
"They need time to have a summer," Martin said. "I don't like doing anything in the middle or late July. It gives them a bit of a break and then they can concentrate on the fall sports."