Wegner retires after 23 years as rural elementary principal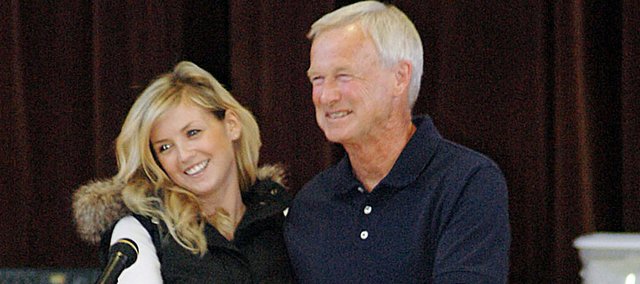 Gus Wegner changed the lives of nearly everyone who entered Marion Springs Elementary School during the past 23 years and most have fond memories of his administration.
Students, parents and staff who attended the rural USD 348 school had positive things to say about their former principal. They were sad to see him retire after spending more than two decades leading MSES.
"He was really nice, and he'll be missed," said Kalie Harris, a former student. "I remember we had a 3-on-3 soccer tournament once and that was a blast, and he put it on in the gym for us. He was always so nice when I'd come back for events with my family."
Former co-workers will also miss Wegner. Glenda Rockers, who was the MSES secretary for the past 25 years — 23 were with Wegner — was sad to work her final day with the man she knew so closely in her professional life.
"I enjoyed working with him for 23 years," Rockers said. "He was always very respectful to everybody. He always drilled into my head that we were there for the kids. They came first, no matter what. He will be missed."
Today is officially Wegner's final day as the MSES and Vinland Elementary School principal. He's been the VES principal for the past three years, but he also held the job during the first seven years in the Baldwin school district.
"I finished the way I came in," Wegner said. "That was nice to go back with all of the staff at Vinland. To go back to Vinland was nice."
The USD 348 Board of Education voted in December to close both rural elementary schools because of budget cuts. Despite the tough way to end his career, Wegner is only taking positive memories with him as he moves on with retirement.
"I really hadn't give retirement much of a thought until a couple years ago," Wegner said. "I'm getting older, and I've been working for 46 years after I started in the Marine Corps. I never really thought about it, because I really enjoyed my 23 years in Baldwin.
"I couldn't ask for a better place to end. I really enjoyed the students, staff and parents. I couldn't work with a better group of people. I never really considered it work at times, because it was a lot of fun. We accomplished a lot, and the students were happy. Those two things make me feel really good."
Marion Springs achieved high educational marks during Wegner's tenure. Along with earning dozens of standards of excellence on the state assessments, the school won the Governor's Award twice for its high scores on the tests.
The school also started an environmental center in 1991, which was still used during the 2010-2011 school year. Wegner and the staff also started a Veterans Day ceremony several years ago. Students invited relatives who were military veterans to the school for lunch and a fifth-grade program.
"The Veteran's Day ceremony is something that has just evolved with the help of Rita and others," Wegner said. "The kids really got into that and it was important for them to realize the importance of the day.
"The other was the family-style lunch. Lunch was just a pleasant place to be. The kids passed the food and behaved themselves. We talked about manners during their meal. I contend that the kids eat better during our family-style lunch. That was an important thing."
Wegner was one of the veterans honored every year. He served in the United States Marine Corps. After the Marines, Wegner went to college. He taught at Northwest Missouri State University before entering public education. He became the MSES and VES principal in 1988.
"After the first year, I never looked anywhere else," Wegner said. "I didn't even think about any other job. It was an enjoyable place to be for 23 years."