Miley enjoys portraying famed Alice in summer musical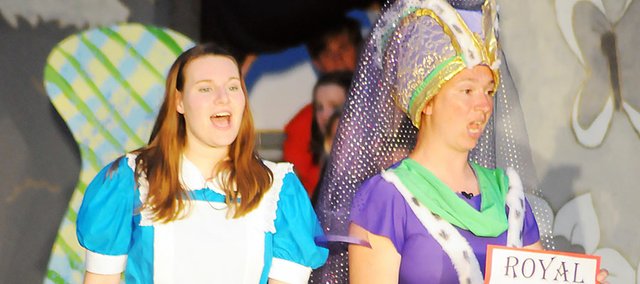 Madeline Miley took a giant leap in her role this summer as a Baldwin City Community Theater cast member.
She went from taking a smaller role as an extra during her first two summer productions to a slightly larger stage presence in last year's presentation, "Seussical the Musical." However, she still wasn't one of the 10 most prominent roles last summer.
All of that changed this year. Miley, a soon-to-be Baldwin High School sophomore, landed the lead role in "Alice the Musical."
"This was my first lead role," Miley said. "I've had smaller roles with the community theater. It was definitely a challenge, because I've never had a lead role before. It definitely helped me work with the cast and memorization of my lines, which are needed in theater. It was a good learning experience for me."
Her portrayal of the Lewis Carroll character came to an end Saturday night. The show, which was based on Carroll's books "Alice's Adventures in Wonderland" and "Through the Looking-Glass," ran two weekends in downtown Baldwin City.
"We seemed to improve every night," Miley said. "Something different would happen and we would change up something almost every night. We seemed to improve and loosen up as each night went along."
Miley and the other cast members auditioned for the musical in late April. Rehearsals began in May, so they've been working on the musical for more than a month.
"I really enjoyed the musical," Miley said. "It took a lot of time out of my life, but a lot of hard work went into it from all of the cast members. It was definitely a really fun experience."
Portraying the character of Alice was something Miley wanted to do for years. It was a character she enjoyed watching in the Walt Disney movie based on the books. However, being on stage for most of the show and memorizing dialogue that was a bit odd was difficult.
"It was difficult to learn all of the lines, considering most of the dialogue doesn't make any sense," Miley said. "We're all kind of crazy, and it doesn't always makes sense. I was a challenge, but once we got passed the point of learning the lines, we could have a bit of fun on stage and let the story flow."
Director Mary Jane Mingus recognized the difficulty of the language, but said her star performed well every night.
"I thought she did very well, and she grew in the part," Mingus said. "She got better as time went on and I think she became more comfortable with the part. On the last night, she was absolutely wonderful. She definitely hit her peak on the last night of the show."
After the cast and crew dealt with weather problems during the opening weekend, they enjoyed normal summer conditions during the final three shows on Thursday, Friday and Saturday. Mingus was pleased with the performances both weekends.
"It went very well," Mingus said. "The weather was kind to us, and we had great crowds. They were responsive audiences, and I think that helps the performers. When they are getting feedback, like laughing and clapping, which helps. I think our largest audience was Thursday night. We had consistent numbers each night."
This year's show was similar to the previous two in that many local and area children were involved.
"I think that's what the community theater is about," Mingus said. "It's about involving people in the community. We look for shows where we can use a lot of young actors. It's interesting to see them start at the beginning and learn into their parts, how to act and be on stage. Hopefully they enjoy it and will audition again."
Now the two-weekend run is complete. The dozens of cast members and production staff workers will have the memories of "Alice the Musical" until next summer.
"I'm sad it's over," Miley said. "We drove by the other day and saw the stage being taken down. It's very sad, because we spent so much time out there. A lot of the community came out and saw it. I hope they had a wonderful experience as much as I did."